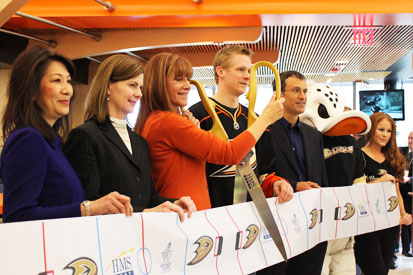 Flanked by Anaheim Ducks Power Players and mascot Wild Wing, left to right are: Loan Leblow, Assistant Airport Director, John Wayne Airport; Susan Goyette, Senior Director, Public Relations & Communications, HMSHost; Susan Samueli, Owner, Anaheim Ducks; Corey Perry and Scott Niedermayer, Anaheim Ducks.
FOR IMMEDIATE RELEASE: December 13, 2011
Contact: Jenny Wedge, (949) 252-5182 (office), jwedge@ocair.com
JOHN WAYNE AIRPORT ORANGE COUNTY WELCOMES ANAHEIM DUCKS BREAKAWAY BAR & GRILL
HMSHost's sports-themed restaurant offers excellent dining and a hockey-lover's haven
ORANGE COUNTY, Calif. – Travelers at John Wayne Airport in Orange County today enjoyed grand opening festivities for the new Anaheim Ducks Breakaway Bar & Grill, hosted by HMSHost Corporation, the National Hockey League's (NHL) Anaheim Ducks, and John Wayne Airport. Ducks owner Susan Samueli joined HMSHost and airport officials in a ribbon cutting ceremony for the popular hometown sports team's new airport restaurant.
"HMSHost and the Anaheim Ducks make a great team. We're pleased that they are bringing our passengers a terrific new restaurant that offers some of the best seats in the house – overlooking our runway," said John Wayne Airport Director Alan L. Murphy.
Located post-security in the newly-opened Terminal C near Gate 18, the new restaurant is a joint effort between HMSHost, a world leader in travel dining and shopping, and the Anaheim Ducks. The restaurant pays homage to the first hockey team to bring the Stanley Cup – hockey's ultimate prize – to California.
"HMSHost and John Wayne Airport have been fantastic partners in bringing this restaurant concept to fruition," said Ducks Vice President of Multi-Media and Community Development Aaron Teats. "Today's grand opening celebrates well over a year of planning and preparation, and we thank our partners for the opportunity to expose travelers to the Ducks hockey brand in such a unique fashion."
The Anaheim Ducks Breakaway Bar & Grill menu offers travelers a broad selection of items, from spicy wings appetizers or a charcuterie plate, to flatbread pizzas made with tomato sauce, fresh mozzarella and fresh herbs to the Baby Romaine Caesar Salad or the Tossed California Cobb. Travelers will also find a number of hand-crafted signature cocktails, including the 10-Minute Misconduct that features 10 Cane, Domaine de Canton Ginger Liqueur, pineapple and Sprite.
"It is our pleasure to offer travelers the first-ever Anaheim Ducks restaurant – another iconic Orange County brand – to John Wayne Airport's lineup of great restaurants," said Anthony Alessi, Vice President, Business Development for HMSHost. "The Breakaway Bar & Grill is where travelers can find a great meal, see team memorabilia and celebrate the Anaheim Ducks team and its players."
The Anaheim Ducks Breakaway Bar & Grill will attract sports fans and families looking for a comfortable place to watch the game and enjoy a great meal. The surroundings will be familiar, with comfortable, inviting seating areas decked out in the team's colors of gold and black with orange accents. The design of the restaurant evokes a feeling of enjoying a hockey game: a glass-surrounded seating area with genuine NHL hockey sticks, together with walls adorned in Ducks' hockey memorabilia. Flat screen TVs highlight great moments in the Ducks' history.
Go to http://www.anaheimducks.com/breakawayphotos to view photos from today's event.
About HMSHost
HMSHost is a world leader in creating dining and shopping for travel venues. HMSHost operates in more than 100 airports around the globe, including the 20 busiest airports in North America. The Company has annual sales in excess of $2.5 billion and employs more than 34,000 sales associates worldwide. HMSHost is a part of Autogrill Group, the world's leading provider of food & beverage and retail services for people on the move. With sales of over €5.7 billion in 2010, the Group operates in 37 countries and employs some 62,000 people. It manages over 5,300 stores in more than 1,200 locations worldwide. Visit www.HMSHost.com for more information and find us on Facebook at HMSHost Making the Traveler's Day Better.
About John Wayne Airport
John Wayne Airport (SNA) is owned by the County of Orange and is operated as a self-supporting enterprise that receives no general fund tax revenue. The Airport serves approximately nine million passengers annually, reaches 20 non-stop destinations in the United States and Canada and is served by 10 commercial passenger airlines. More information can be found at www.ocair.com.
About the Anaheim Ducks
The Anaheim Ducks are currently in their 19th NHL season. The club was born in 1992 and played their first-ever game on Oct. 8, 1993 at Honda Center (then Arrowhead Pond of Anaheim). One of 30 NHL franchises located throughout the United States and Canada, the Ducks have played to over 90% capacity crowds in their history at the 17,174-seat Honda Center. On June 20, 2005, the Ducks franchise was purchased by Orange County residents Henry and Susan Samueli. By securing the first Stanley Cup championship in franchise history in 2007, the club also became the first team from California to win hockey's ultimate prize. The Ducks have been to the Conference Finals three times (2003, 2006 & 2007) and been to the Stanley Cup Final twice (2003 & 2007). The team has qualified for the playoffs five times in the last six seasons.
# # #