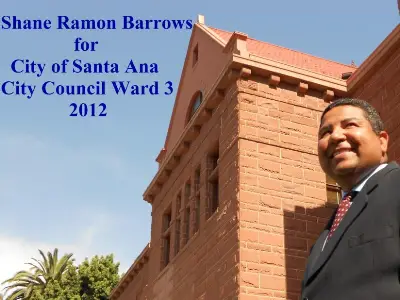 Are you ready for yet another candidate for Santa Ana's Ward 3?  Park Santiago resident Shane Ramon Barrows has pulled papers for the City Council, but he says he won't be accepting political contributions.  I never do either when I run for office, so I can appreciate that.
Barrows is joining an already crowded race that features Orange County middle manager Charles Hart, who lost badly in his run for Mayor two years ago; former Council Member Brett Franklin; and Planning Commissioner Eric Alderete, who has to be considered the early favorite as the only Latino in the race.  Most folks believe that the Ward 3 incumbent, Carlos Bustamante, will not stand for reelection, as he is facing serious felony charges of sex crimes and public theft.
Barrows is a member of the Santa Ana Human Relations Commission.  He is also a past President of the Park Santiago Neighborhood Association.  He is an Irvine police officer (Google his name and you will find him quoted often in the media as he is involved in the Irvine Police Association) and a substitute teacher.
Here are Barrow's positions, from his Facebook page:
My philosophy is very simple, don't spend money that we don't have and have an emergency fund available for unplanned events. This is basic economics, which I think our politicians sometimes get away from. I won't count on lofty projections when planning future income, I will use the actual averages of the income that we have received for the past few years as a future indicator. I won't borrow against possible future earnings and will not burden the next generation of city residents with current spending.
My primary concern, and the reason why I am running for City Council, is quality of life issues in our city. I have three small children and this is something that I consider on a daily basis. Safety, schools, open space, air quality and city aesthetics are very important to me. Alcohol advertising, graffiti, cleanliness, and marijuana dispensaries really bother me. These are issues that I will address as a City Council member.
CREATE A RECREATIONAL AND SENIOR CENTER FOR NORTH CITY RESIDENTS
We do not have a Recreational or Senior Center in the north end of our city. Why is that? We represent a significant tax base for the city, but our children, seniors, and young adults don't have a neighborhood recreational center to attend. We should not have to travel to the center of the city to play recreational sports or take music lessons miles away from our neighborhoods.
As a councilmember, I will address this issue. I have three young children and senior citizen neighbors who are always looking for extra-curricular activities to do. They deserve a neighborhood recreational center to attend.
ENSURE ADEQUATE FUNDING FOR PUBLIC SAFETY AND SCHOOLS
We must, first and foremost, always provide funding for public safety, schools, and other city departments. But, we must always live within our means. This means that tough choices sometimes have to be made. Funding is not available for everything, and we must prioritize what we spend our money on. Public safety has been, and will always be, number one. We cannot have any type of quality of life if we do not live and work in a safe environment. This means providing our police department with the tools and staffing that they need to go out and take care of business.
I believe in Santa Ana schools. I am proud to say that two of my children attend a Santa Ana public school, one of two Santa Ana schools that received National Blue Ribbon recognition this year for 2011. Our schools also need our assistance. Even though they are funded separately, we have an obligation to make sure that our students have a place to go and be supervised if their parents are busy working. We must do what we can afford to do to help out with afterschool programs. We need to focus on after school programs that give our children access to computers and the internet to help with their studies. Since my children are still in elementary school, I see firsthand the impacted afterschool programs, with the long waiting lists, and the children that walk home by themselves because no one is there to pick them up. The current demand for after school care far outweighs the actual availability, and many families are turned away due to no space being available. We need to make these programs available to our youth.
GET RID OF OR RESTRICT ALCOHOL ADVERTISING
I do not like billboards. I believe that they are an eyesore and negatively impact our quality of life. Especially when the majority of the advertisements are for alcohol. Or the old advertisements are covered over with graffitti. This is not what our children need to see as they travel through the city. As a councilmember, I will make a goal to have these removed from our city. This includes the billboards at our bus stops.
If for some legal reason we are unable to have the billboards removed, I will have a city ordinance created restricting the type of advertising allowed at these billboards.
I will also look at creating a city ordinance restricting the exterior advertisement of alcohol sales / availability for stores, bars, and restaurants. California ABC (Alcohol Beverage Control) laws usually restrict this type of exterior advertising, so we will build upon those existing laws to visually enhance our quality of life.
POLITICAL DONATIONS AND POLITICAL SIGNS
I have not asked for and will not accept any political donations for this campaign. I believe that accepting political donations may prevent me from voting on certain issues that come before the City Council. I do not want to have to recluse myself from important issues so I have decided not to accept donations. I do not owe anyone any favors and I am not a city hall insider. I am an independent thinker and my decisions will always be based on what is best for the city, not political contributors.
I have also decided not to display political signs along our roadways and buildings. I believe that political signs are an eyesore and bring down the quality of life in our city. I do not like seeing them everywhere during election season. There are still political signs being displayed on our roadways from the June elections. Signs that have been up for more than four months. I think that this is unacceptable, and is nothing more than litter in our city. We have other forms of media that are available to spread our message, and I will use those outlets instead.
BUSINESS
We need to bring more businesses to our city. Businesses bring sales taxes to our city, which is what we need, not personal taxes. I will work with the Santa Ana Chamber of Commerce Chamber to bring more jobs and business taxes to our city. Jobs are created by businesses, not our city government.