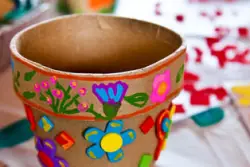 Orange County Great Park Corporation
FOR IMMEDIATE RELEASE: April 12, 2010
CONTACT: JENN STARNES 949-724-6574
Great Park Wants Kids to Picture the Park
Free Imagination Celebration event gets kids to discover the park through arts, gardening and ecology crafts
IRVINE – The many aspects of the Orange County Great Park will come into focus with "Picture the Park," an activity-filled event that helps kick of OC's Imagination Celebration. The free family fun event is designed to entertain ages 5 – 12, but families are encouraged to create functional art together at numerous activity stations.
In the Farm & Food Lab, UC Extension Master Gardeners will encourage junior gardeners through art and planting projects. Team Kids will be on hand to demonstrate the water cycle and provide recycled-art craft activities. Other activities throughout the Park will encourage kids to "Picture the Park" through crafts.
The Imagination Celebration is an annual countywide event presented by the Orange County Department of Education, which encourages children to explore the power of theater, dance, music and the arts. This will be the third year that the Imagination Celebration has partnered with the Orange County Great Park.
Picture the Park is Saturday, April 17th from 12:00 p.m. to 3:00 p.m. at the Orange County Great Park in Hangar 244 and the Farm & Food Lab. Admission and parking are free.
Come back May 1st for "Tool Time," one of a series of our spring garden workshops or May 15th for Movie on the Lawn.
Click here for more information.
###