Have you heard of a movie called "La Mission?"  It premiered at the Sundance Film Festival in 2009, to much acclaim.  The privately financed movie stars Benjamin Bratt  and is written and directed by his brother, Peter Bratt.
The movie explores the lowrider culture in San Francisco, while delving into a story about a young man who comes out of the closet, to the chagrin of his tough father, who is raising him by himself.
"La Mission" opened this week in Los Angeles, and is now playing at the AMC Theater at the Block of Orange, located at 20 City Blvd. (BUY TICKETS) (714) 769-4288.
Here are a few excerpts form an article in the L.A. Times about this movie:
The movie makes the Mission a virtual character in its tale of a proud, culturally old-school, macho Latino single father named Che Rivera (Benjamin Bratt) whose world is rocked to its foundations when his son Jes (Jeremy Ray Valdez), a bright UCLA scholarship student, comes out of the closet. The film also stars Erika Alexander as Che's self-possessed, astute neighbor Elena, and Jesse Borrego and Talisa Soto Bratt, Benjamin Bratt's wife.

Sensitively told but unflinching in its determined frankness about several prickly, taboo topics, "La Mission" delves into the emotional thickets of homophobia, ethnic identity, domestic as well as street violence, and generational conflict. Above all, through Valdez's breakout performance in his theatrical film debut, it addresses the potentially difficult passage, en route to self-fulfillment, of a young, gay person belonging to a historically marginalized demographic group.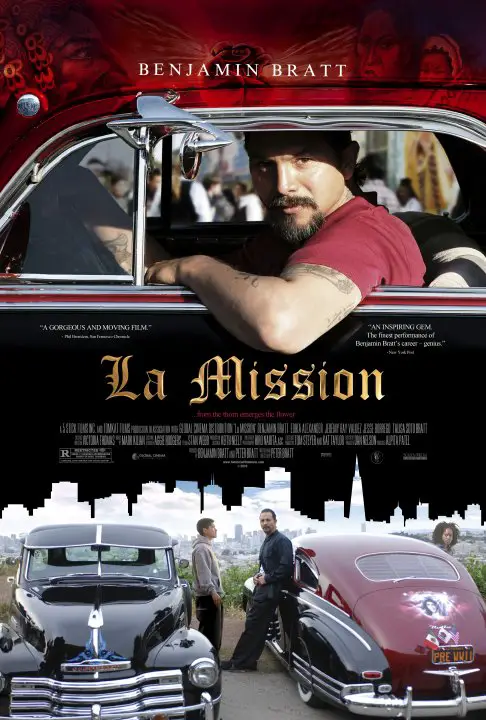 Click here to see the "La Mission" website.  Click here for a list of theaters that are currently screeing this film.  Click here to join the "La Mission" Facebook fan page.