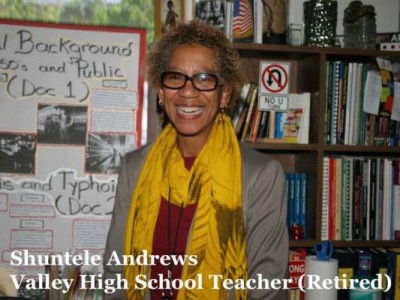 Shuntele Andrews, a retired teacher who is running for the Santa Ana School Board this year, is holding a campaign Meet and Greet Fundraiser  on Sunday, June 29, 2014, from 11 am to 1 pm, at 1721 N. Baker St., in Santa Ana.  The event is hosted by Ben Vazquez, a Valley High School Teacher.
Attending the event will cost $50 per person or you can be a sponsor for $1,000 (Gold Sponsor), $500 (Silver Sponsor), or $250 (Bronze Sponsor).
Make your online donation via Democracy.com/ShunteleAndrews or mail your donation to Shuntele Andrews for School Board 2014, 3683 Bear St., Unit H, Santa Ana, CA 92704.
For more information please email Shuntele at herstory63@gmail.com.