Join the launch of the Breath of Fire Latina Theater Ensemble's Winter Playwriting Series on January 9th @ GCAC
WHEN: Saturday, January 9 @ 1:00pm to 4:00 pm
WHERE: CSUF Grand Central Arts Center (basement space). 125 N Broadway, in Santa Ana
The Launch is to help participants learn more about the series, expectations, the organization, the teaching artists and each other.
Each workshop is FREE with an emphasis on playwriting taught by theater professionals. No experience necessary. Spaces are limited. A public shared reading will culminate the winter series. This is an opportunity for our writers to hear their work read out loud in a staged reading format. All are encouraged to participate as writers, readers, and/or audience members.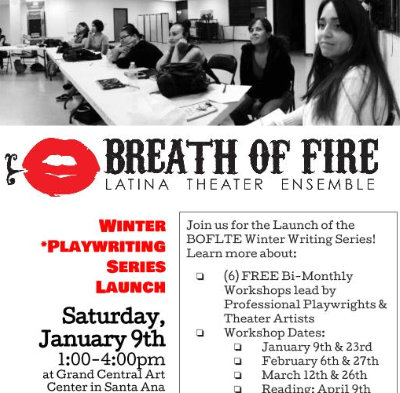 WINTER WORKSHOP DATES (to keep in mind):
Sat, Jan 9 (launch)
Sat, Jan 23
Sat, Feb 6
Sat, Feb 27
Sat, March 12
Sat, March 26
WORKSHOP TIMES:
1:00 pm to 4:00 pm
LOCATION:
CSUF Grand Central Arts Center
125 N Broadway, Santa Ana, CA 92701
WINTER SHARED READING DATE:
Sat, April 9th
(TIME: TBD)
(SPACE: TBD)
We are looking forward to meeting you on January 9! Click here to RSVP.