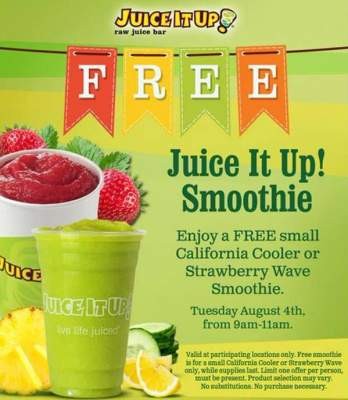 JUICE IT UP! CELEBRATES 20 YEARS WITH FREE SMOOTHIES ON AUGUST 4
Company Commemorates Milestone with Guest Freebies at All Locations
IRVINE, California – Juice It Up!, one of the nation's leading raw juice bar and hand-crafted smoothie franchises, is celebrating 20 refreshing years by offering guests a free smoothie at the chain's more than 80 units nationwide. On Tuesday, August 4, between 9 and 11 a.m., head to Juice It Up! to receive a complimentary small Strawberry Wave™ or the new California Cooler™ smoothie, with no purchase necessary.
The Strawberry Wave is a refreshing blend of Strawberry juice, non-fat yogurt, banana, and strawberries
The California Cooler is an invigorating blend of fresh cucumber, pineapple juice, lemonade, lime sherbet and pineapple
"We've been fueling the active lifestyles of our guests for 20 years and we wanted to show our appreciation for their support by doing something special for them," said Frank Easterbrook, president & CEO of Juice It Up! "We pride ourselves on staying ahead of trends and provide each of our guests with delicious, customizable products that satisfy individual tastes along with their specific nutritional wants and needs."
Juice It Up!'s summer brand campaign pays tribute to the Southern California lifestyle, where Juice It Up! was founded in 1995, and highlights the region's beachy, active culture. The special anniversary-edition California Cooler™ smoothie is available for a limited time and is featured on Juice It Up!'s menu alongside fresh-squeezed functional raw juices, blended-to-order real fruit and veggie smoothies, and nutrient-rich bowls loaded with superfruits Açaí and Pitaya.
Mark your calendar and join Juice It Up! on Tuesday, August 4, between 9 and 11 a.m. to take advantage of this sweet anniversary promotion. To find your nearest location and for complete nutritional information, visit www.juiceitup.com.
Easterbrook added, "As we continue to expand across the nation, we're looking forward to serving our devoted Juice It Up! fans and new guests alike for decades to come."
About Juice It Up!
Juice It Up!, a leading raw juice bar and hand-crafted smoothie franchise, specializes in delicious and functional fresh-squeezed juices, blended-to-order real fruit smoothies and nutrient-rich options such as Açaí and Pitaya Bowls. Founded in 1995, the Irvine, California-based lifestyle brand is focused on providing its guests with a variety of great-tasting, better-for-you food and drink choices designed with personal wellness in mind. With more than 80 locations across California, Arizona, New Mexico, Oregon, and Texas, the company is showcasing newly revamped restaurant designs, a heavier focus on the growing demand for raw juice options and a menu refresh that reflects the brand's active personality and motto to "Live Life Juiced!." For more information, visit www.juiceitupfranchise.com.
Juice it Up! is located in Santa Ana at 2268 East 17th St.  714-835-3629
Hours:
Sun: 8am – 8:30pm
Mon: 7am – 9pm
Tue: 7am – 9pm
Wed: 7am – 9pm
Thu: 7am – 9pm
Fri: 7am – 9pm
Sat: 8am – 8:30pm