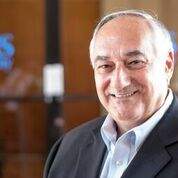 MOMS ORANGE COUNTY APPOINTS NEW LEADERSHIP
Ron DiLuigi is Named President of MOMS Orange County's Board Of Directors
SANTA ANA, Calif. (July 28, 2015)– MOMS Orange County, a nonprofit organization serving low-income pregnant women for more than 22 years, is proud to announce the appointment of Yorba Linda resident Ron DiLuigi as the new MOMS Orange County Board of Directors president.
DiLuigi is the former vice president and chief advocacy officer for St. Joseph Health, headquartered in Irvine. He retired in July 2015. In this capacity, he was the lead executive in St. Joseph Health's fifteen-hospital system, in the areas of advocacy, public policy and government relations. Prior to this, DiLuigi held executive positions during a 27-year career in government, most recently as director of the Orange County Health Care Agency. He is a MOMS Orange County founding board member and has served the organization for 14 years.
"Ron brings a diverse set of skills to the board, including a strong sense of history, a background in governance and advocacy, and an aptitude for navigating complex linkages between government and nonprofits," says Pamela Pimentel, RN, CEO of MOMS Orange County.
In his new role as board president of MOMS Orange County, DiLuigi will use his extensive experience in leadership, planning and community relations to drive the MOMS Orange County mission to help mothers have healthy babies and families, and to ensure the long-term sustainability of MOMS Orange County. As a husband, a father of three, and grandfather of six, DiLuigi understands the importance of this mission in the Orange County community.
While reflecting on the time before MOMS Orange County's services were available to the community, DiLuigi says, "The goal was to create an entity that could be a linkage in the community to help women access services." He was instrumental in MOMS Orange County becoming the largest community-based provider of maternal-child health screenings and education services for low-income, underserved families in Orange County.
DiLuigi received his Masters Degree in Public Administration from California State University, Fullerton, and is a graduate of the Management Executive Program at the University of California, Irvine.
About MOMS Orange County
For 23 years, MOMS Orange County has been helping at-risk mothers and their families have healthy babies by providing access to prenatal care, health screenings, infant development screenings, health education and referral services through monthly home visits and group classes. Mothers receive one-on-one education and support during pregnancy to help increase their chance of delivering a healthy baby. After babies are born, the focus turns to promoting their healthy growth and development so they grow up happy, healthy and ready to learn. To learn more about MOMS Orange County, visit www.momsorangecounty.org.
###