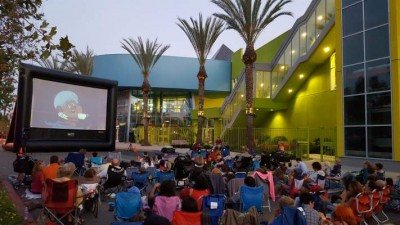 Discovery Cube Orange County Hosted Sherlock Family Night Under the Stars with Special Access to the World-Class Sherlock Holmes Exhibit
Families were invited to grab their detective gear for a special evening of sleuthing with Sherlock Holmes. On Friday, July 31 Discovery Cube Orange County hosted 'Sherlock Family Night at the Cube' offering exclusive access to Discovery Cube Orange County, including its newly expanded campus and the world-class traveling exhibit The International Exhibit of Sherlock Holmes. Plus, families enjoyed an outdoor showing of The Great Mouse Detective under the stars.
The International Exhibit of Sherlock Holmes is open at Discovery Cube OC for a limited time, through September 7. Visitors of this world-class exhibit making its California debut can learn how Sherlock Holmes, a scientific expert, used seemingly trivial observations of clues others missed to solve the most puzzling of mysteries. This 10,000 square-foot "who done it" exhibition features original manuscripts and artifacts, investigative tools, and crime-solving opportunities. Guests will be transported back into Victorian London and given a detective's notebook to use throughout the exhibition to help solve a riveting crime.
To learn more visit www.discoverycube.org/oc/sherlockfamilynight or call 714-542-2823. Discovery Cube Orange County is located at 2500 North Main Street in Santa Ana.
About Discovery Science Foundation
The Discovery Science Foundation serves as the program-development, marketing and fundraising arm for hands-on science learning museums in Orange County and Los Angeles. Established in 1989, the original non-profit Taco Bell Discovery Science Center in Santa Ana, now renamed Discovery Cube Orange County, presented by Taco Bell, continues to inspire and educate millions of young minds through engaging science based programs and exhibits. In 2012, the Center was named one of the ten "Most Trusted Brands" in Orange County and in 2013 was awarded the National Medal of Service from the Institute of Museum and Library Services.
In November 2014, Discovery Cube Los Angeles, a second not-for-profit museum offering an exhibit and program mix unique to Los Angeles, opened in the Hansen Dam Recreational Area of the San Fernando Valley. For more information, call (866) 552-CUBE (2823) or visit www.discoverycube.org.
###