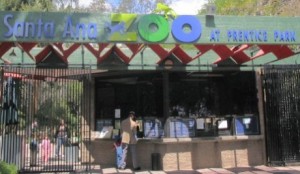 Santa Ana residents can get into the Santa Ana Zoo, for free today, Sunday, Oct. 16, with proof of I.D. or a utility bill.  Santa Ana Zoo is located at Prentice Park, located at 1801 E. Chestnut, Santa Ana.
Displays over 300 animals from around the world on 21 acres. Open daily from 10am to 4pm, once inside, one can remain until 5pm.
Oct. 16: National Chemistry Week/Chemistry Day: 11am – 3pm | Chemistry displays sponsored by the American Chemical Society | FREE with price of admission
Oct. 22, 23, 28, 29, 30: Boo at the Zoo: 5:30 – 8pm | Halloween family festival with trick-or-treating, costumes, lights and decorations, nocturnal animal presentations, train & carrousel rides.
Celebrate National Chemistry Week (NCW) 2011!
Theme: "Chemistry – Our Health, Our Future!"
October 16-22, 2011
Chemistry is everywhere and is important to our health. Whether it's the medicines that make us well, to the hygiene products that keep us clean, and even the vitamins and minerals that supplement our diets. Chemistry is involved in maintaining our health and future. This year's theme explores these concepts and gives us the opportunity to highlight many achievements in the health field where the transforming power of chemistry is displayed.
Community Event: Health Drive
K-12 Contest: The National Illustrated Poem Contest is focused on "Where's the Chemistry?" The illustrated poems relate to common applications of chemistry that people might not normally think is related to chemistry.
ChemMatters: ChemMatters, a magazine for high school students, will devote its October issue to National Chemistry Week.
Celebrating Chemistry: This National Science Education Standards-aligned hands-on activity newspaper for elementary school students will highlight:
The importance of healthy eating and staying active
An overview of medicines and how they are developed
The importance of handwashing and proper handwashing technique
Each year National Chemistry Week reaches millions of people with positive messages about the contributions of chemistry.
Join in the celebration of NCW 2011!
Visit www.acs.org/ncw for more information.