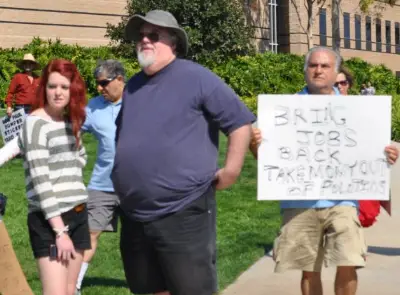 Over 1,000 people gathered to join in the Occupy Orange County protest and march that took place today in the Irvine, Tustin area, according to the Coast Report.  The OC Weekly also reported that there were 1,000 protesters.  For some reason the OC Register reported that there were only 600 protesters.  Click here to see the official Occupy OC photo album.
The event began at 10 a.m. with people gathering across the sprawling green lawn in front of city hall. An hour later, a small band of aging rockers armed with a saxophonist played the lulling strains of Pink Floyd's "Us and Them," as a long line of people snaked for several blocks to the intersection of Barranca and Jamboree, according to the OC Weekly.
The best recap of Occupy Irvine that I found was the Subversities blog.  Here are a few excerpts: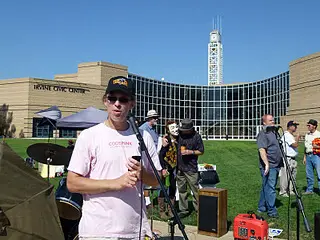 Speakers at a rally and open mike included UC Irvine History Prof. Mark Levine (pictured), who read a poem from an Egyptian poet at Egypt's Tahir Square during earlier protests there. Levine said that the latter had given Rage against the Machine guitarist Tom Morello the poem to read at the protests in Madison, Wisconsin, earlier this year. Those protests, Levine said. led to the current spate of protest occupations. Levine, with the poet's permission, he said, inserted Irvine into the poem.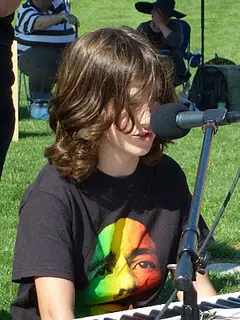 Later, Levine's son, Alessandro (below) just 10, captivated the crowd on the piano while singing various songs. Other speakers included several unemployed and one who exhorted to crowd to stop consuming so much (e.g. iPhones).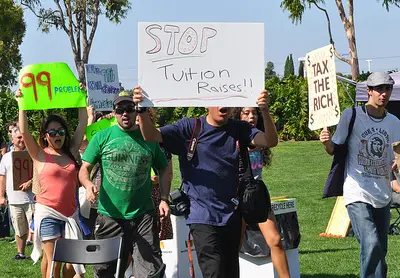 Photo by Greeninoc
Another speaker revealed that organizers had earlier met with Santa Ana police, who insisted that there could be no camping there. Hence, instead of Santa Ana, with a large Latino population, the protesters chose Irvine, Orange County's "business center" as one rally speaker called it, to be the site for Occupy Orange County.

Note: Irvine Councilman Larry Agran was nowhere to be seen, nor were any uniformed cops.
The Coast Report also posted that there were few cops.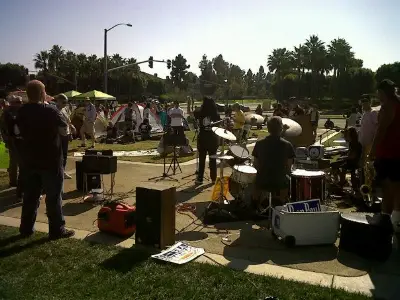 Santa Ana artist/musician Theo Hirsch showed up as promised, at the protest.  He moderated an Open Mic event from 2 to 7 pm.
Will the occupiers stay the night?  According to the OC Weekly, "By early afternoon two tents had been set up on the civic center lawn. One man who didn't give his name said he intended on camping out and was prepared to be arrested if police enforce a 10 p.m. curfew."
Finally, click here to learn about protests that took place today all over the U.S. and the world.