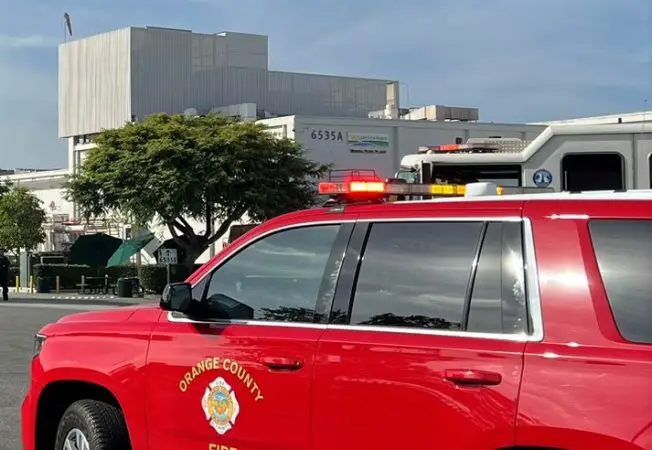 Buena Park-Firefighters, including their hazardous materials units, are on scene at the 6500 block of Cabellero Bl. in Buena Park for a hazmat leak in a commercial building.
The incident began three hours ago just before 10 am. A total of 12 employees were decontaminated, and assessed by firefighter paramedics – 11 of them were then transported to area hospitals.
Fire crews isolated the area and are treating people exposed.
Firefighters from the OCFA hazardous materials team made entry to assess the leak and mitigate it. The hazmat team determined the material released is ammonia.
High levels of ammonia can irritate and burn the skin, mouth, throat, lungs, and eyes. Very high levels of ammonia can damage the lungs or cause death. Workers may be harmed from exposure to ammonia. The level of exposure depends upon dose, duration, and work being done, according to the CDC.
The 11 employees treated by firefighter paramedics and transported to area hospitals were reported to be in stable condition.
Crews are still working in the area. Drivers should avoid using Caballero.
Editor's Note – pictures taken by the OCFA indicate the leak appeared to have happened at Simply Fresh Foods, a food manufacturer. Ammonia is a common refrigerant used in such facilities. Ammonia leaks at such establishments have often proven fatal as noted by Food Manufacturing.