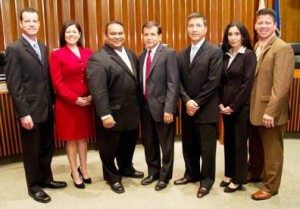 The Santa Ana City Council has once again, with terribly short notice, scheduled a "Special Meeting" set for tonight, January 29, at 5 pm, at Council Chambers.  This is another secret meeting as the Council will be deliberating the fate of our City Manager, Paul Walters. 
The timing is odd as the Council's Public Safety Committee was supposed to meet tonight as well, at 5:30 pm, at the police station community room.  How are they going to run two meetings at once?  Very odd.
Here is the agenda for tonight's Council meeting:
CALL TO ORDER
CITY OF SANTA ANA
SPECIAL MEETING OF THE CITY COUNCIL
AGENDA
JANUARY 29, 2013 5:00 P.M.
Council Chamber
22 Civic Center Plaza Santa Ana, California 92702
Mayor PULIDO
Councilmembers AMEZCUA, BENAVIDES, MARTINEZ, REYNA, SARMIENTO, TINAJERO
City Manager, City Attorney, Clerk of the Council
PUBLIC COMMENTS – Members of the public may address the City Council on items on the Special Meeting Agenda.
CLOSED SESSION ITEM
The Brown Act permits legislative bodies to discuss certain matters without members of the public present. The City Council finds, based on advice from the City Attorney, that discussion in open session of the following matters will prejudice the position of the City in existing and anticipated litigation:
1 PUBLIC EMPLOYEE DISMISSAL/RELEASE AND APPOINTMENT OF INTERIM pursuant to Government Code Section 54957(b)(1)
Title: City Manager
CLOSED SESSION REPORT – The City Attorney will report on any action(s) taken following the Closed Session Meeting.
ADJOURNMENT