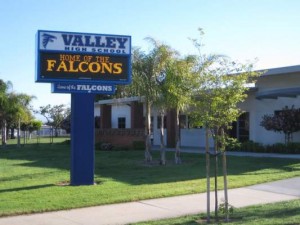 Larry Mohr is still the football coach at Santa Ana Valley, according to OC Varsity!
Mohr said he was called into a meeting this week in which he was told he will return as head coach. This comes almost three weeks after Mohr and the school appeared to part ways. "I met with the district on Monday and they stated to me that I am still the football coach at Valley High School," said Mohr, who has accumulated a 48-28-1 record in seven years at Valley.
What changed?  Well for one thing we blogged about it – and our post got thousands of views!

And almost 400 parents and students have signed an online petition asking the new SAUSD Superintendent, Rick Miller, to reinstate Mohr as Valley's Football Coach.
Mohr could not provide any further detail as to what changed between his resignation and reimplementation as head coach. Mark McKinney, associate superintendent of human resources for the Santa Ana Unified School District, confirmed Mohr has been and remains coach.

Last week, Valley principal Patrick Yrarrazaval said Mohr told school administration at the start of the 2013 season that it would be his last, then revoked his resignation after the season. The principal then decided to go with a different coach and Mohr resigned. Mohr's resignation was reported by the Register on Dec. 30.

"I love the boys there," Mohr said. "I love Valley High School."
Valley Principal Yrarrazaval clearly blew it and the resulting public outcry forced his hand.  Welcome back Coach Morh!