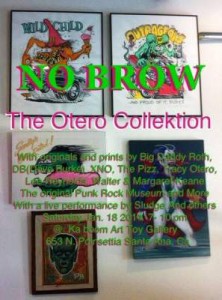 No Brow, the Otero Collection, goes on display tonight, January 18, 2014, from 7 pm to 10 pm, at the Ka Boom Art Toy Gallery, located at 653 N. Poinsettia St., in Santa Ana.
The exhibition features art by DB, XNO, Big Daddy Roth, Reno Roth, Walter and Margaret Keane, a collection of vintage sad eye art… and a display by the Original Punk Rock Museum, with vintage toys courtesy of Ka boom! with a performance by DRAGONSOUNDZ …
Located just across the street from the Santa Ana train depot in the Santiago Lofts complex.