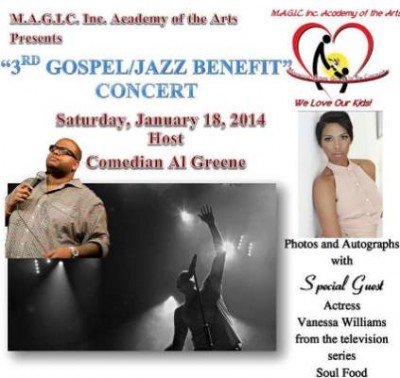 On January 18th 2014, Magic Inc. Academy of the Arts will present its 3rd Gospel/Jazz Benefit Concert. Host Comedian Al Greene, Introducing Live some of the Hottest Gospel Singers, Chiors,Rappers,Praise Dancers, & Jazz Bands.
Location: Ebell Club 625 French Street. Santa Ana, Ca. 92701
Doors open at 3:00pm 8:00pm.
Tickets: $15.00 Donation in advance, $25.00 Donation at the door,
50/50Raffle, 32" color TV, Door prizes, good finger food, and most of all good networking.
For ticket info contact James 714-514-2322 or e-mail magic.inc19@yahoo.com or buy ticket on web suit www.magicinc.co and it will be at the door