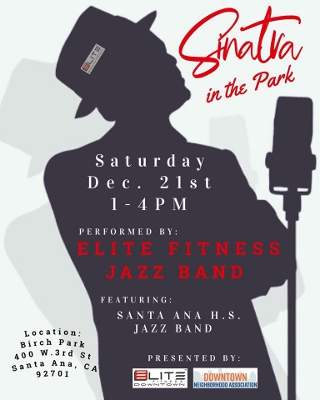 Get read for a fun and free community concert at one of Santa Ana's favorite parks. Birch Park will host the Sinatra at the Park concert, which will feature the Santa Ana High School Jazz Band from 1 p.m.-2:15 p.m., and then from 2:45-4 p.m. on Dec. 21.
The Elite Fitness Sinatra Jazz Band will perform music from the iconic singer Frank Sinatra. This event is produced by Elite Fitness Downtown, The Downtown Neighborhood Association, and the City of Santa Ana.
Birch Park is located at 400 West 3rd Street. This park has been around since the early 1900's, as seen here. And Birch Park has been hosting bands since the 1920's as seen here.