In a rare OC (free) concert appearance, Cosmologic (Jason Robinson (sax), Michael Dessen (t.bone), Scott Walton (bass), Nathan Hubbard (drums)) will play at the Episcopal Church of the Messiah on January 17, 2010 (Sunday) at 6:30pm.
Cosmologic is one of the best music groups to come out of the West Coast in the last decade. They traverse the broad terrain of creative jazz and improvised music, integrating high-energy playing, intense introspection, rich grooves, open textures, and collective alchemy.
While profoundly dedicated to improvisation, Cosmologic also performs complex pieces that are composed by an individual member and then transformed through extensive group work. With nearly a decade of experience together, Cosmologic continues to extend their repertoire of original music, in an ongoing search for new ideas.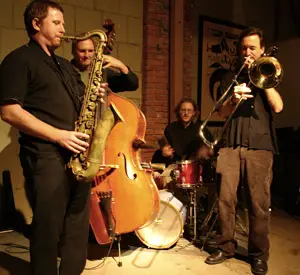 Check out their website, YouTube clips, and CD on Cuneiform and Circumvention Records.
The church is located at 614 N. Bush St. Santa Ana 92701 (corner of Bush and Civic Center).
Cost: Free.