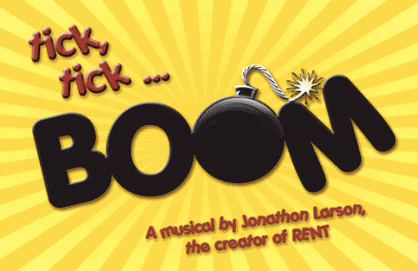 Santa Ana's Theatre Out will present their new musical, "Tick, Tick…Boom! starting on Jan. 15.  This musical is by the acclaimed composer/lyricist Jonathan Larson, who was the creator of "Rent."
Tick, Tick…Boom! was originally presented as a "rock monologue" entitled Boho Days and performed by  Larson as an autobiographical look at his dream of leaving his mark on the musical theater landscape. Larson was working on Boho Days at about the same time he was writing the landmark musical Rent.
After Larson's untimely death, his college friend and producing partner Victoria Leacock became determined to bring Tick, Tick…Boom! to a wider audience. She enlisted David Auburn, author of the Pulitzer prize-winning play Proof as a "script consultant." Auburn studied Larson's various drafts of the show and restructured the monologue into a three person show.
Tick, Tick…Boom! was an instant hit with the legions of Rent fans, and went on to garner seven Drama Desk nominations and won the Outer Critics Circle Award for Outstanding Off-Broadway Musical.
Theatre Out is located at At The Empire Theatre, at 202 N. Broadway in Santa Ana's Artist Village.  Tickets for Tick, Tick…Boom! range from $!5 for students to $25 for general admission.  Click here to buy tickets.
Jonathan Larson received the 1996 Pulitzer Prize for Drama for RENT.  He also won the 1996 Tony Award for Best Musical and the 1994 Richard Rodgers Award for RENT and twice received The Gilman & Gonzales-Falla Theatre Foundation's Comendation Award.  In 1989 he was granted the Stephen Sondheim Award from American Music Theatre Festival, where he contributed to the musical "Sitting on the Edge of the Future."  In 1988 he won the Richard Rodgers Development Grant for his rock musical "Superbia", which was staged at Playwrights Horizon. 
He composed the score for the musical "J.P. Morgan Saves the Nation", which was presentedby En Garde Arts in 1995. Mr. Larson performed his rock monologue "tick, tick… BOOM!" at Second Stage Theatre, The Village Gate and New York Theatre Workshop.  In addition to scoring and song writing for "Sesame Street", he created music for a number fo children's book-cassettes, including Steven Spielberg's "An American Tail" and "Land Before Time".
Other film scores include work for Rolling Stones magazine publisher Jann Wenner. He conceived, directed and wrote four original songs for "Away We Go!", a musical video for children. RENT, his rock opera based on "La Boheme", had its world premiere on February 13, 1996 at New York Theatre Workshop. Mr. Larson died unexpedtedly of an aortic aneurysm on January 25, 1996, ten days before his 36th birthday.