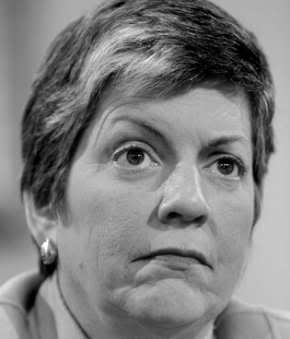 Embattled Homeland Security Secretary Janet Napolitano is allegedly denying that ICE immigration raids are occuring in Santa Ana
A local insider has indicated that Congresswoman Loretta Sanchez is getting ready to issue a press release denying that Immigration and Customs Enforcement (ICE) raids are going on in Santa Ana.  This despite numerous eyewitness accounts to the contrary.
A Sanchez staffer leaked the news about the release and indicated that Sanchez has talked to Homeland Security and ICE and they have denied the raids. 
However, considering that Homeland Security allowed numerous party-crashers to invade a recent White House dinner, and they also allowed a known terrorist to fly to our country, with no bags, on Christmas, it is hard to take them at their word.  That is particularly true given that the Director of Homeland Security, Janet Napolitano, insisted to the press that the "system worked" after the aforementioned terrorist failed to blow up a jet that was landing in Detroit.
Napolitano also has a regrettable record on immigration, as a former Governor of Arizona.  "As governor of Arizona, Janet Napolitano last year signed into law the nation's harshest penalty for employers who knowingly hire illegal immigrants, a measure that would take away their business licenses for a second violation," according to the L.A. Times.
And it is a fact that ICE has stepped up immigration raids all over the U.S. since President Barack Obama took office.  These raids have been terrorizing innocent people who are struggling to survive in our horrid recession.  And families and children are paying the price.
"ICE's immigration raids have been so sweeping that they have ensnared U.S. citizens, including innocent children, in their dragnet," said Caroline Fredrickson, director of the ACLU Washington Legislative Office. "There are no regulations controlling ICE's reckless raids, and ICE routinely violates due process while conducting raids,"  according to the ACLU.
We would prefer to see a press release from Congresswoman Sanchez denouncing the raids and calling on all government authorities and agencies to back off and leave our immigrant community in peace, especially given the fact that our Census officials are even now beginning to reach out to all our residents.
The system is not working!  That is the message we need to send to Napolitano and to Sanchez.  Click here to find out how to contact Napolitano, who does not provide an email address. Click here to contact Congresswoman Sanchez. Or call her local office at (714) 621-0102.