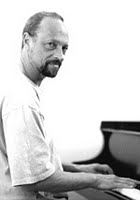 Jazz Pianist Larry Karush will be appearing in concert in Santa Ana on Sep. 27
You are invited to the Episcopal Church of the Messiah, in the heart  of historic Santa Ana, for the first Concert by Candlelight of the  2009 – 2010 season.  And it is FREE!
Jazz pianist Larry Karush is the featured  performer; he is an improvising pianist/composer with roots in Jazz,  20th century western music, African-based percussion, and the music of  North India. From Carnegie Hall to the Purple Onion, he has performed  solo piano concerts of original music throughout the United States in  addition to festival appearances in Canada, Europe, and South Africa.
This free concert in Santa Ana will be Sunday, September 27, 2009, at 7:00 pm, with a festive Champagne reception afterward in the Parish  Hall. The Episcopal Church of the Messiah is located the southeast  corner of Bush Street and Civic Center Drive (614 North Bush). For  directions or more information, please click here, or  call 714/543-9389.
"Karush draws together such disparate elements as bluegrass banjo,  stride, tinges of Erik Satie, boogie-woogie, country and the blues.  But his own vision—one of the most fascinating in current jazz—remains constant." Don Heckman, Los Angeles Times.  Click here to hear a sample of Karush' music.