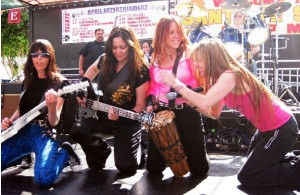 The Undercover Girls will be playing for free at Santa Ana's Morrison Park on September 19
"The neighborhoods of north Santa Ana will host their ninth annual concert in the park on the evening of Sept. 19," according to the O.C. Register.
The concert will feature "The Undercover Girls," a classic rock cover band.  The event is free to attend, but tables that can seat eight people are available for $25.
This year's theme is "Simply Purple" and attendees are asked to dress the part; there also will be prizes awarded for the best purple table.
The concert begins at 6 p.m. at Morrison Park, 2801 Westwood Ave. To get more information or to reserve a table, call 714-269-4138.