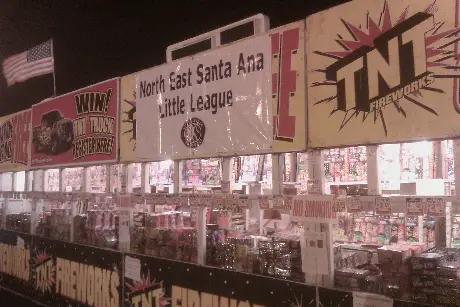 I asked Santa Ana Public Information Officer Jose Gonzalez if he could get me a list of the 2012 Santa Ana 4th of July fireworks booth locations and he came through!  Click here to download that list – and find out where you can buy safe and sane fireworks in Santa Ana.  The fireworks booths will be open from July 1-4.
Take a look at the list and you can easily identify the non-profit organizations that run each of these booths.  Now you can go buy fireworks from a specific non-profit that you want to support.  The fireworks sales mean a lot to these organizations and often provide a substantial amount of their annual funding.  You will also note that the list is organized by the different fireworks manufacturers, in case you like a specific brand of fireworks.
Here are a few booths I would like to call your attention to:
The John Muir Fundamental Elementary School PTA 5th Grade Science Trip fireworks booth will be located at 1601 W. Seventeenth.
Santa Ana's North East Little League's fireworks booth will be at 2101 N. Grand Ave., where Foods for Less used to be located.
Ken Nguyen's Little Saigon Foundation will have a fireworks booth at 3700 W. McFadden.
The Santa Ana High School Girls' Water Polo fireworks booth will be at 5210 W. First St.
SAUSD Trustee Roman Reyna will have a YMCA fireworks booth at 2100 W. Alton.
Santa Ana High School's Wrestling team will have a fireworks booth at 3001 S. Bristol
There are a lot of great non-profit organizations manning a lot of fireworks booths.  Click here to see the whole list of fireworks booths in Santa Ana.  In the  report you will also find out where to buy the fireworks you like, such as TNT Fireworks and Phantom Fireworks.
Santa Ana residents can call 714-834-4211 to report fireworks related incidents. 
Free Santa Ana fireworks show on July 1, at Centennial Park!