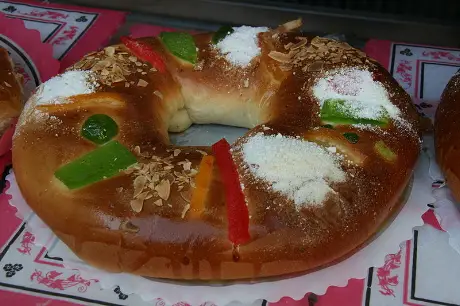 Los 32 por Mexico Orange County presents the annual Rosca de Reyes event, on January 6, at Restaurant Mexicanísimo, which is owned by Mike Gonzalez and located at 2323 W. First Street Santa Ana, CA 92703 at 6 pm.  Click here to RSVP on Facebook.
This organization represents the many Mexican immigrants who live here in Orange County.  There are 31 states in Mexico, plus Mexico City, which is called the Federal District.
Rosca de reyes or roscón de reyes (kings' ring) is a Spanish and Spanish American king's cake pastry traditionally eaten to celebrate Epiphany.
Although the name indicates that it should be round, the "rosca de reyes" generally has an oval shape due to the need to make cakes larger than 30cm across for larger parties. Recipes vary from country to country. For decoration, fig fruit, quinces, cherries or dried and candied fruits are used.
It is traditionally eaten on January 6, during the celebration of the "Día de Reyes" (literally "Kings' Day"), which commemorates the arrival of the three Magi or Wise Men. In most of Spain, Spanish America, and sometimes, Hispanic communities in the United States, this is the day when children traditionally get presents, which are attributed to the Three Wise Men (and not Santa Claus or Father Christmas). In Mexico before children go to bed, they leave their shoes outside filled with hay or dried grass for the animals the Wise Men ride, along with a note.
The tradition of placing a trinket (figurine of the Christ Child) in the cake is very old. The baby Jesus, when hidden in the bread, represents the flight of Jesus, fleeing from King Herod's evil plan to kill all babies that could be the prophesied messiah. Whoever finds the baby Jesus figurine is blessed and must take the figurine to the nearest church on February 2, Candlemas Day (Día de la Candelaria). In the Mexican culture, this person also has to throw a party and provide tamales and atole to the guests.
The Rosca de Reyes event at Restaurant Mexicanísimo is a family event and all family members are invited.  Mr. Gonzalez is looking forward to your presence and to discussing the significance of this date and at the same time helping to preserve this celebration in our Latino families.
Mike Gonzalez, President of Los 32 por Mexico Orange County, (714) 390-9606