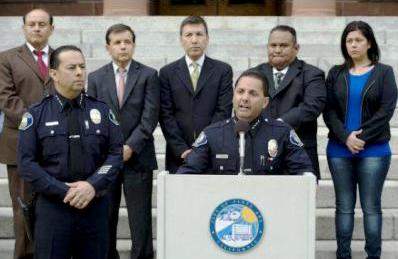 City of Santa Ana, Downtown Orange County
Community Alert: Newly Appointed Chief of Police Rose Through the Ranks
SANTA ANA, CA (April 29, 2014) –After an exhaustive nationwide recruitment and interviewing process, City Manager David Cavazos has appointed twenty four year veteran Carlos Rojas as the new Chief of Police for the City of Santa Ana. Rojas has served as the Interim Chief of Police since March 2012.
"Chief Rojas has had a long outstanding career in law enforcement and performed exceptionally as the City's Interim Chief of Police for the last two years. Crime has continued to decrease under his leadership and the City is very proud to make this appointment," said City Manager David Cavazos.
Mayor Miguel Pulido added, "public safety plays a critical role in the success of the entire City. Our continued low crime rate allows our communities to flourish and it drives the economic success of our businesses, residential communities and vibrant downtown."
Through hard work and dedication, Rojas rose through the ranks of the Santa Ana Police Department. He began his law enforcement career as a patrol officer in 1990 with the City and since then, has served in numerous capacities including Field Training Officer, Major Narcotics, Professional Standards and Homeland Security. More recently, Rojas has served as the Deputy Chief of both the Field Operations Bureau and the Administration Bureau and also developed the Homeland Security Division of the Santa Ana Police Department after the tragedy of September 11, 2001. He is a Medal of Valor recipient from the United States Customs Service, Santa Ana Police Department and the Federal Bar Association.
"This is outstanding news for the City," said Public Safety Committee Chair and Councilman David Benavides. "Chief Rojas is homegrown talent who has a passion for this City. He knows our police department and he cares about our community."
Rojas will be the City's first Latino police chief and the 20th police chief in department history.
"My main focus is to provide exceptional customer service to our community through professionalism, accountability and responsibility. My goal is to increase staffing in order to further develop community policing efforts throughout the City," said Rojas.
As the newly appointed Chief of Police, Rojas will continue to oversee the 580 sworn and non-sworn personnel and lead them in service to Santa Ana's 350,000 residents and visitors. Rojas will take the oath of office at the next City Council Meeting on May 6, 2014 at 5:45pm. Members of the police department and the public are encouraged to attend.
###