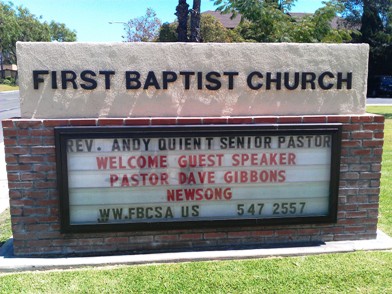 William H. Spurgeon, the founder of the City of Santa Ana, purchased seventy-six acres of land from the Yorba heirs in 1869 and laid out what was to become the Orange County seat. With only six or eight homes in the place and about one hundred fifty souls, thirteen people organized First Baptist Church of Santa Ana on a Saturday in March of 1871, at the local school house.
Services were held in the school house until the first church was built in 1876. The cost was $4000 and it was located on four lots donated by Spurgeon at the corner of Main & Church Streets. The interior was unfinished for a number of years and financial problems were so severe during the first 10 -12 years, that the property was sold for taxes several times. At one point, members mortgaged their homes to pay off the church obligations and one member lost his home because of this. And Santa Ana developed, so did the church. As many members were from surrounding area, certain groups took their letters and established in neighboring cities.
With the coming of the railroad to Santa Ana, the city started to grow and the church membership grew with it requiring additions to be made to the building from time to time. In 1912, it was apparent that a new church building was needed. A new church, at the same location, was built in 1913-1914 at a cost of $ 49,244. It was dedicated free of debt.
Today that same church yet stands but it is largely empty now.  There are two services on Sundays – one in the morning and one in the late morning. The early birds are mostly seniors, some in their nineties.  Most of them are board members of the church.  Few of them still live in Santa Ana but every Sunday they get in their cars and come back to First Baptist, for the traditional early service.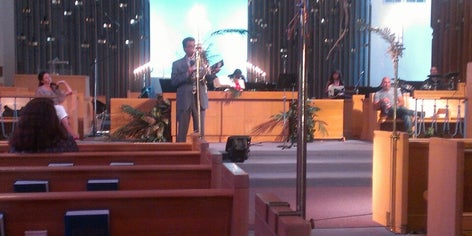 It is a grand church but she is showing her age and the second service, which features a lively Christian rock band, is generally mostly empty.  My wife and I sat there last Sunday, on Palm Sunday, with our nine-year-old son and he refused to go to Sunday school, explaining that there aren't any boys there his age.  I took the picture above on Sunday.  The church was, as usual, very lightly attended.   Our 16-year-old won't even come to church anymore – it has become a dreadful bore for him.
"About 3,700 churches in America dissolve every year," according to the Baptist Bulletin.  Yet some of the seniors on the board insist on plodding forward, as if doing business as usual will somehow save the church despite its lethargy and the changing demographics that have resulted in a packed Spanish language service, at the chapel behind the main church.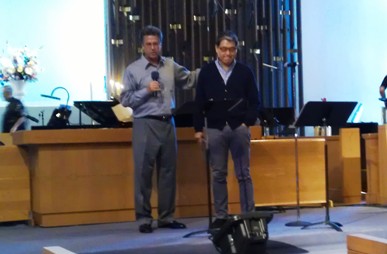 When I heard that Irvine's Newsong Church wanted to buy the Santora building, in Downtown Santa Ana, which they gave up on after the artists at the Santora freaked out, I asked the minister at First Baptist, Andy Quient, to contact Newsong's minister, Dave Gibbons.  I pointed Quient to Gibbon's Facebook page and lo and behold, Gibbons answered.  From Korea if I recall correctly.  He was on a mission trip.
Gibbons eventually came to visit First Baptist and Quient visited Newsong.  Both saw the potential that I envisioned, when God planted this idea in my mind. It is a perfect match really. Newsong is a vibrant, diverse church filled with young people.  Santa Ana is the youngest city in Orange County, with more residents under the age of 18 than any other Orange County city.  Gibbons desperately wants to reach out to the people of Santa Ana, to do what he was born to do – bring people in need to Christ.  First Baptist is prominently located right in the heart of Santa Ana, on 17th, not far from Flower, across from the Fire Station that is just a few miles south of Mayor Miguel Pulido's house.
This Sunday, after the regular church service, about fifty members of the church gathered in a town hall meeting of sorts and while the meeting was dominated by a handful of senior naysayers, in the end Quient asked who was leaning towards a yes vote and at least two thirds of those in attendance raised their hands.  A few folks remained on the fence and one stubborn lady continued to vote no.  But the vote was reassuring.  This could really happen!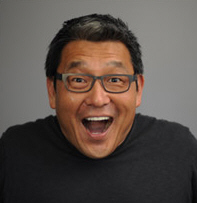 First Baptist won't go away if we merge with Newsong.  Instead we will be reinvigorated.  Our pews will be full again, as Spurgeon himself intended.  This will be one of the biggest stories in Santa Ana, in 2013.  And the vote could happen by the end of April.
Quient will stay on and I am glad for that.  A former business executive he came to the ministry later in life and he has won over a lot of folks over the years with his gentle style and old-fashioned sense of humor.  His wife is his anchor and together they pray for the flock at the end of each service, inviting those who are hurting or who are ready to accept Christ as their Savior to come on up to pray with them.  Quient plus Gibbons will be quite an awesome team!
I am praying that our members will see the potential and vote for this merger.  It might be our last chance to save First Baptist and get back to doing what our congregation was intended to do – ministering to the people of Santa Ana – for the next hundred years…
BTW, if you are free on Sunday come on down to First Baptist for our Easter Services, which include a Traditional Service at 9 am, a Continental Breakfast and an Easter Egg Hunt at 10 am, and our fun Contemporary Service at 11 am.  He is risen! 🙂