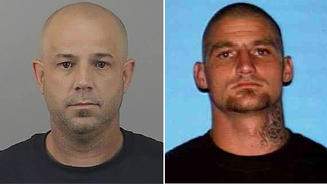 Jason Erling Hallstrom, 41, a man who was wounded in an officer-involved shooting in Santa Ana on March 15,  died last Saturday, according to Santa Ana Police Cpl. Anthony Bertagna, as quoted in the L.A. Times.
Hallstrom had been charged with a felony count of unlawfully taking a vehicle and a misdemeanor count of resisting a peace officer, according to court records. He was due in court Monday.
Here is what happened, according to the O.C. Register:
On March 15, Hallstrom and Travis Mock, 29, were being chased by SWAT officers on I-5 when they got off at Grand Avenue and headed north, Santa Ana authorities said.

Police that day initially thought Hallstrom was the driver of a stolen Nissan but later determined Mock was driving the vehicle. An earlier version of this story indicated Hallstrom was driving the Nissan.

The vehicle pursuit ended when the Nissan crashed at Grand Avenue at 15th Street; officers fired at and hit both men as they attempted to flee.
A woman who calls herself Summer Shine commented at the Register that she had borne a daughter with Hallstrom and that the facts were not being reported. I have reached out to her for more info.  In the meantime, here are some of her comments:
You're all so naive. You have no idea the politics behind Jason's death and if you did, you'd know it could have easily been any one of you. I'm repulsed that our daughter saw this. Have some respect.

They were running for their life, knowing the SWAT team was there to kill them in an effort to cover their asses for a previous shooting. Know the facts before you talk about someone's father like that.
It could have been your Daddy on a stretcher. Did you even look at the circumstances and overwhelming evidence that this was a planned killing??? The questions is why, but it's coming to light. You'll see.
It is generally a bad idea to flee from the police.  But this case is something else.  I have never heard of a SWAT team chasing down and shooting someone.  They usually enter buildings to do their work.  Did Hallstrom and Mock rob someone or some company?  The OCDA should eventually put out a report about the police shooting.  Hopefully it will be enlightening.