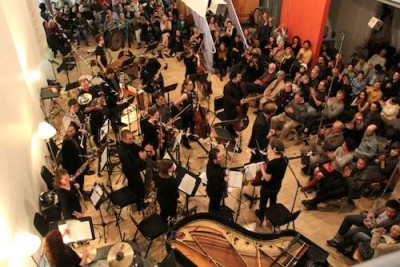 Well it looks like Jack Jakosky, the owner of the Santora building who has made headlines recently for whitewashing a mural and evicting artists, is going to try to salvage his reputation by bringing in a bunch of musicians from Los Angeles.
Here is the press release issued by the Grand Central Art Center regarding this event:
Santa Ana Sites #4 presents an immersive, experimental concert experience inside the historic and architecturally inspiring Santora building. wild Up in The Santora fuses classical instruments with contemporary sounds to create an unforgettable evening in one of Santa Ana's most charming venues.
Los Angeles based music collective wild Up, musicians from The Colburn Conservatory of Music and composer/vocalist Lisa Bielawa come together to share in a night of unexpected artistic ventures.
Tickets are free but reservations are required – RSVP info towards the bottom of this page.
wild Up is a modern music collective that embraces sound as a vehicle for shared experiences. The Los Angeles Times praised the group stating, "You'd be forgiven for mistaking wild Up for an indie rock band." Led by acclaimed conductor Christopher Rountree, members of the group along with some of Colburn's musicians and soprano Lisa Bielawa will disperse throughout The Santora building to perform engaging micro concerts.
Audiences will begin their Santa Ana Sites #4 journey at the Grand Central Art Center for a pre-show, then move to the Santora's to begin an adventure of music, architecture and mingling in various galleries, studios, and empty spaces.
The music draws from a vast array of genres, with compositions from Bach, Ravel, Machaut, The Magnetic Fields, Katy Perry, Sun Ra, Brian Eno, The Beach Boys, The Dog Faced Hermans, Philip Glass, Lisa Bielawa, Ornette Coleman, Deerhoof and The Misfits, amongst others. Composer/vocalist Bielawa's performance with the ensemble treats Southern Californians to her first performance since her appearance in the LA Opera's presentation of Philip Glass' Einstein on the Beach, where she also served as the production's Choral Master.
This event is anticipated to be at maximum capacity with reservations required.
Reserve FREE tickets through email with name and requested number of tickets with a maximum of two tickets per guest to: grandcentral@fullerton.edu.
A reception at Grand Central Art Center will begin at 7pm, with guests being asked to arrive no later than 7:30 pm on Saturday, February 22nd.
Santa Ana Sites provides contemporary performances in spaces throughout Santa Ana. The traveling forum is designed to introduce the community to artistic experiences while encouraging diverse environments.
Past events featured David Harrington, founder and Artistic Director of the Kronos Quartet; Backhausdance performing their dance installation, The Elasticity of the Almost; and a performance from Inner Mongolian music group AnDa Union. The Santora installment of Santa Ana Sites unites music lovers of every age and background for an evening of forward thinking entertainment.
More information on the previous events can be found on the Santa Ana Sites Facebook page: https://www.facebook.com/santaanasites
###
SUPPORT
Santa Ana Sites #4 is made possible through the generous support of Santora Group LLC, with in-kind support provided by Ashley Eckenweiler and The ACE Agency.
ABOUT GRAND CENTRAL ART CENTER 
California State University, Fullerton Grand Central Art Center is dedicated to the investigation and promotion of contemporary art and visual culture: regionally, nationally, and internationally through unique collaborations among artists, students, and the community.
MAKE YOUR PLEDGE NOW!
We have made it easy for you to contribute your tax deductible pledge to Grand Central Art Center through the secure CSUF Philanthropic Foundation website:https://www.fullerton.edu/SupportGCAC
PARKING:
Structure on 3rd Street @ Sycamore
Additional Structures @ 4th St. & Spurgeon and 3rd St. & Birch St.
Surface Lot @ 3rd St. & Bush St.
GCAC GALLERY HOURS:
Closed Mondays and Holidays
Tuesdays – Sundays 11.00 am – 4.00 pm.
Extended hours: Friday & Saturday 11.00am – 7.00 pm.
(First Saturday of the month galleries are open until 10.00 pm)
http://www.grandcentralartcenter.com/maps.php