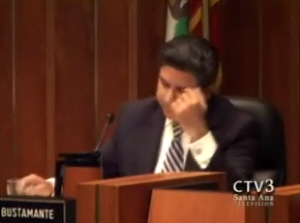 "The Orange County Board of Supervisors will meet Monday in an emergency closed session to discuss whether they should refer allegations of sexual misconduct against Santa Ana City Councilman Carlos Bustamante to District Attorney Tony Rackauckas for a criminal investigation," according to the Voice of OC.
My sources report that Orange County CEO Tom Mauk may be hung out to dry as a result of this scandal.  A report by Peter Hughes, director of internal audit, made its way to the supervisors, according to the Voice of OC – and his allegations were stunning.
Apparently, "top officials at OC Public Works, such as Director Jess Carbajal, did nothing about allegations against Bustamante when they were first received from female workers."
Click here to read the rest of this article.