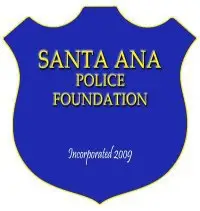 Advisory: SANTA ANA POLICE FOUNDATION WILL HONOR LOCAL HEROES AT COMMUNITY LUNCHEON March 14,2012
SANTA ANA POLICE FOUNDATION WILL HONOR LOCAL HEROES AT COMMUNITY LUNCHEON
SANTA ANA, California,– On Wednesday, March 14, 2012 at the Anaheim White House Restaurant, the Santa Ana Police Foundation (SAPDF) will honor local heroes, thirteen individuals who participated in foiling crime last year. These honorees are residents, business owners, and officers of the Santa Ana Police Department, who worked together to make our community safer.
Individuals and business leaders are invited and encouraged to support this exciting event. The individual tickets are $35; corporate sponsorships are a requested $1,500. Our sponsors will be recognized at the table, in the program, and from the presenter. Up to three slides of a sponsoring company's images will be shown in a rotating program during the luncheon; and a single sheet brochure or sponsor's tri-fold will be inserted in the folder for each attendee. To register for the luncheon, sponsor or donate, please go to the foundation's website atwww.sapdf.org/events.
Each of the individuals was nominated by the Santa Ana Police Department and deserves recognition for his or her role in solving crimes related to vandalism, grand theft, armed robbery, and homicide. Awards will be presented to the honorees by guest emcee, John Corby, former SAPD officer and voice-over artist.Honoring community heroes is only one of many events the SAPDF supports throughout the year. Our overall purpose is to raise funds for a wide range of police-centric initiatives from youth gang prevention to business emergency preparedness. We are a grass-roots, community-funded organization which serves through donations and sponsors for this event and throughout the year.
Contact:
Mr. Bill Cunningham, President/CEO
Santa Ana Police Foundation
(714) 972-0200
Bill@sapdf.org
2321 E. 4th Street, Suite C-175
Santa Ana, CA 92705
For full details, view this message on the web.
Sent by Santa Ana Police Department, 60 Civic Center Plaza, Santa Ana, CA 92701