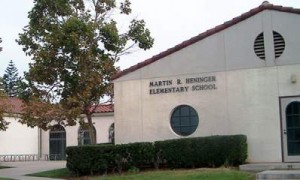 Santa Ana School Police Department Community Alert: Burglary suspect arrested at Heninger Elementary School
On Friday, January 10, 2014, at approximately 7:35 PM hours, Santa Ana School Police Officers and a Santa Ana Police Department K-9 unit responded to Heninger Elementary School, located at 417 W. Walnut Street, in response to a silent burglary alarm activation. Officers arrived and detained a male Hispanic juvenile who had forced entry into the school library by breaking a window.
The suspect had concealed 24 i-Pads in his backpack and was preparing to leave when he was detained and arrested by responding Officers. The suspect, who is not a SAUSD student, was on probation for a prior burglary and was booked at Orange County Juvenile Hall.
Contact Information:
LT. Mark Van Holt
Operations
714-558-5535
mark.vanholt@sausd.us
###
For full details, view this message on the web.