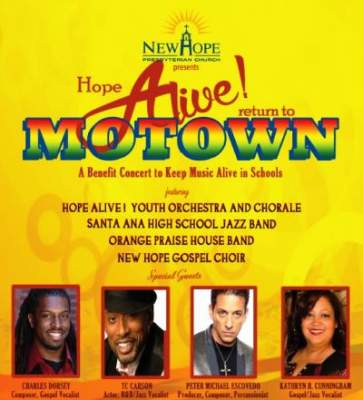 For the past 5 years, New Hope Presbyterian Church, in Orange, has sponsored a benefit concert to keep music alive for Santa Ana High School and Willard Intermediate. This year the benefit concert will be held on Sunday, Nov. 2, 2014 at Santa Ana High School, in the Bill Medley Auditorium, at 520 W. Walnut St., in Santa Ana.
This year's benefit concert is entitled "Return to Motown" and will feature:
Charles Dorsey, Composer and Gospel Vocalist
TC Carson, Actor, R&B/Jazz Vocalist
Peter Michael Escovedo, Producer/Composer, Percussionist
Kathryn B. Cunningham, Gospel/Jazz Vocalist
The Hope Alive Youth Orchestra and Chorale
The Santa Ana High School Jazz Band
The Orange Praise Hope Band
The New Hope Gospel Choir
Tickets are now on sale for:
Premium Plus: $65, including a reception
Premium: $45
General: $25
Balcony: $10
Go to www.mynewhopepres.org to buy your tickets or call 714-288-9986.