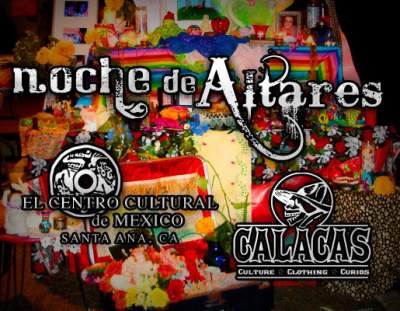 Day of the Dead (Spanish: Día de Muertos) is a Mexican holiday observed throughout Mexico and around the world in other cultures. The holiday focuses on gatherings of family and friends to pray for and remember friends and family members who have died, according to Wikipedia.
The Day of the Dead will be celebrated in Santa Ana with the annual Noche de Altares (Night of Altars) hosted by El Centro Cultural de Mexico, at 4th and Birch Streets, in Downtown Santa Ana, on November 1st, from 1- 10 pm.
Noche de Altares is an event where the community joins together to celebrate and respect the dead by making altars. Live music and cultural performances will accompany the dazzling altars. Open to everyone. Free admission.
The Copper Door will be hosting a special "Día de Los Muertos Art Walk AFTER PARTY" which is FREE and will include makeup artists, featured art, live music, burlesque, DJ and more.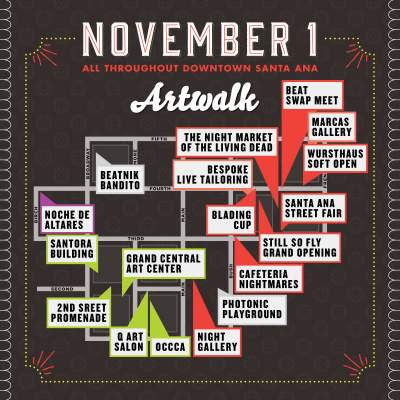 The biggest Artwalk of the year is also taking place tonight with the First Saturday Downtown Santa Ana Artwalk set for Saturday, Nov. 1, from 6 PM – 10 PM, in Downtown Santa Ana.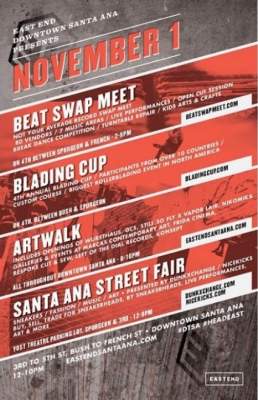 There is also a full day of events on the East End at 3rd to 5th and Burn to French St, in Downtown Santa Ana, on Saturday, November 1st, 12, from Noon – 10 pm.
The East End is bursting with events on November 1st to keep you entertained. No matter what the venture, The East End will have what you're looking for. All day long there will be events like The Blading Cup, for athletes; The Beat Swap Meet, for music lovers; The Art Walk, and The Santa Ana Street Fair, hosted by new-to-Downtown businesses DunkXchange and NiceKicks, for sneaker and street wear lovers.