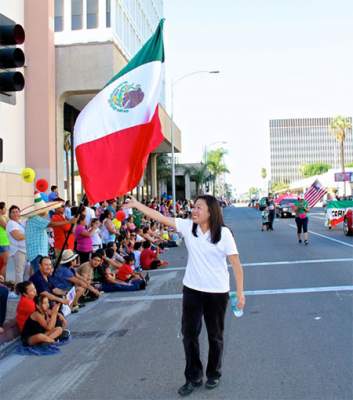 When Supervisor Janet Nguyen was first elected to represent the First District I advised her to be non-partisan and to reach out to her Latino constituents.  She started a Hispanic Committee to advise her but I was shocked to find out that all of the committee's members were Hispanic Republicans – and none of them lived in the First District.
A couple years ago Nguyen gerrymandered the First District to include more Vietnamese voters – and less Latino voters.
This year Nguyen not only voted to put a homeless shelter right in the middle of one of Santa Ana's poorest neighborhoods, on Normandy Street (over on the east side of the city), she also refused to meet with the residents when they wanted to talk to her about the shelter, which they feel is too close to schools, parks and hundreds of apartments and homes.
Will Nguyen work with Latinos?  Sure.  But only if they are Republicans.  This stands in stark contrast to the record of the man she is trying to replace in the 34th State Senate District – Lou Correa.  His record shows that he will work with anyone in his district.  He has been a true moderate.  That is not what Nguyen is going to be.
Now don't get me wrong.  Nguyen is not a Tea Partier.  She is a basic Republican and the truth is she doesn't have many beliefs.  When she first running for Supervisor I asked her what she stood for.  Small business she said. That was it.  Years later she still stands for very little.
So what does Nguyen stand for?  It is hard to say.  She talks about being against taxes but she is clearly not against wasting tax money.  She has blown vast amounts of tax money needlessly remodeling her Supervisorial office and by hiring her own sister – and paying her a vast salary for doing hardly anything at all.
We know that Nguyen will sell her vote.  She did that when she voted against letter grade health ratings for restaurants – but neglected to tell the public that her own husband and chief of staff were at the time co-owners of a filthy Lee's Sandwiches franchise in Stanton that had accrued dozens of health violations under their watch.  Nor did Nguyen admit that she had accepted over twenty thousand dollars from owners of other disgustingly bad restaurants.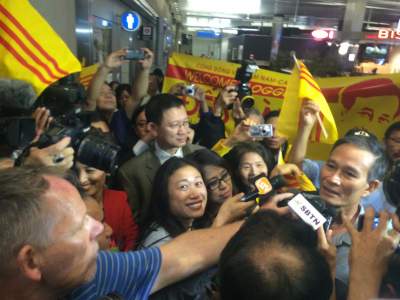 When Nguyen launched her campaign for the 34th State Senate District her anti-health record caught up with her. She held the event at the Azteca Restaurant in Garden Grove.  Had she looked up their health violations she would have noted that they were temporarily shut down a month before her event – for a cockroach infestation.
Nguyen also took over the CalOptima board and while she wrecked that agency she got what she really wanted – massive campaign donations from Orange County's health care providers.
Nguyen will pander to Latinos every chance she gets.  I have seen her ride in the Fiestas Patrias parade yelling "Viva Mexico."  But we know that this is just an act.  In truth she considers us to be a nuisance.  Her record clearly shows that.
In fact look up how many health fairs she has sponsored over the years.  They have all been in Garden Grove and Westminster.  So she tries to help the people of Little Saigon to get healthier while at the same time she tries to dump a homeless shelter in one of Santa Ana's poorest Latino neighborhoods.  Make of that what you will.
If Nguyen replaces Correa in Sacramento it will be a massive tragedy for the people of Santa Ana.  She will continue to overlook our city and will in essence only represent Little Saigon.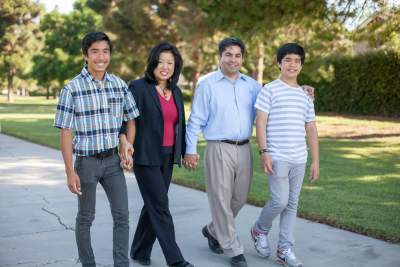 What about her opponent, Jose Solorio?  Well I can tell you this – as a Santa Ana Councilman he worked with everyone in our community.  He was not partisan.  In fact many of his most ardent supporters were Republicans.  As an Assemblyman he was a moderate and he was always in leadership positions.  You can expect that the same thing will happen if he makes it to the State Senate.  He will be one of the most connected and powerful State Senators in California.  And he will be fair to both is Latino and his Asian constituents.  He married an Asian lady – a public school teacher.  His own family represents the melting pool that is Santa Ana.
Janet married a white guy.  That is and always has been her thing – in fact just about every campaign mailer from her that we have received here at my home has featured old white people.  No Latinos of course.
I am afraid that Latinos are not going to vote in next week's General Election.  They didn't vote in June.  And they may feel that it is not worth voting next week because Governor Jerry Brown is leading by a vast margin.  But not voting will be a huge mistake.
If Nguyen wins she will get a small closet of an office.  Every bill she tries to pass will be voted down and if one somehow makes it to Governor Jerry Brown's desk he will veto it.  She will be one of the most useless state legislators in California.  She will do nothing but wait for U.S. Rep. Loretta Sanchez to leave her Congressional seat.  Then the nightmare will begin anew as Nguyen will run for Congress and probably win.