Authorities say three teenage girls have died after being struck in a suspected hit-and-run crash in Orange County, according to CBS.  Two of the girls were twins and the third was a friend of theirs.   The vehicle was traveling at a "high rate of speed" when the crash occurred, according to NBC.
The accident happened about 6:45 p.m. 1400 block of East Fairhaven, near the intersection of North Jacaranda Street and Fairhaven Avenue, Orange County Fire Authority Capt. Steve Concialdi said, according to the OC Register.
The children were hit by Fairhaven Elementary School not far from Fairhaven Apartment Homes.
This sort of thing never used to happen in North Santa Ana. But already this year we have reported to drive by shootings in the area – and now this.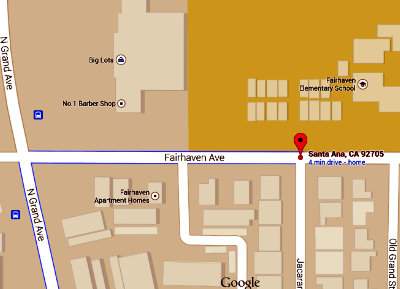 Graphic courtesy of Google Maps
CBS also reported that:
Police located the suspect vehicle, described as a Nissan Pathfinder, north of the crash site in a shopping center, by a Big Lots store.
"We believe that we have damage that's consistent with a vehicle collision and we do believe that that's the vehicle at this time," SAPD Chief Carlos Rojas said.
"We are still looking for the individuals that were inside the vehicle and, at this moment in time, we believe that they were two male Blacks," he added.
The impact of the crash caused the girls to be thrown more than 100 feet, authorities said, according to KTLA.
"It has damage to the front of it and evidence inside it," Bertagna said. Witnesses followed the car after the collision, but lost the suspects once they fled on foot, police said, according to the LA Times.
Two of the girls were killed immediately and a third died as paramedics prepared to take her to a hospital, according to KABC.
Maria Ramirez, 14, who lives about a half block from where the hit-and-run occurred, said she attended Portolla Middle School with the twins. She last saw them at school Friday, she said, according to the OC Register.
Orange County Crime Stoppers will pay up to $1,000 CA$H for any tip that leads to an arrest.  Call 1-855-TIP-OCCS or Click Here to submit a tip.  You can also call the Santa Ana Police at 714-245-8665.
Will Santa Ana Councilman David Benavides call this another anomaly?  Remember that was his reaction the last time someone asked him about the rise in crime in Santa Ana.