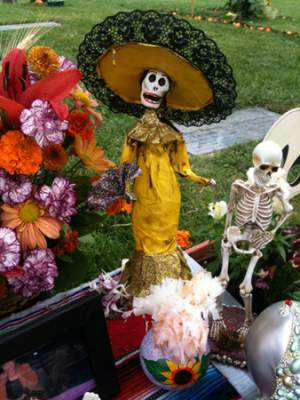 Fairhaven Memorial Park to Host Third Annual Dia de los Muertos Celebration 
Hundreds gather at free event on Sunday, Nov. 2 to remember friends and family members
Orange County residents will gather at Fairhaven Memorial Park & Mortuary for its annual Dia de los Muertos celebration, a family-friendly event to honor the lives of those who have passed. A vibrant memorial service, featuring a traditional offertory, music and art, will be held to pray for and remember the lives of friends and family members. Attendees are encouraged to bring a photo of their loved ones to place at the colorful altars. Complimentary pan de muerto and chocolate will be provided by El Indio Tortilleria, Inc.
Believed to be one of the few days a year when loved ones who have passed return to visit, Dia de los Muertos – also known as Day of the Dead – is celebrated annually on Nov. 2. Traditionally, loved ones create altars that include food, flowers, photos and articles that belonged to, or had special meaning, to the deceased.
When: Sunday, November 2 at 3 p.m.
Where: Fairhaven Memorial Park at 1702 E Fairhaven Ave  , in Santa Ana, CA 92705
Hundreds of community members celebrating, and remembering, loved ones
Colorful Mexican native dances and music
Entertainment provided by Mariachi Morales & Relampago del Cielo
Altars adorned with food, flowers, photos and sentimental items
Marla Noel, president of Fairhaven Memorial Park & Mortuary
Memorial service officiants: Deacon Jerry De Santas from Immaculate Heart of Mary & Deacon Luis Gallardo from Our Lady of Pillar Catholic Church
About Fairhaven:
Founded in 1911 by Oliver Halsell to provide a peaceful and comforting place for families to honor their loved ones, Fairhaven Memorial Park & Mortuary is Orange County's most historic and beautiful memorial parks. Additional information is available at www.fairhavenmemorial.com.
Media Contact: Dawn Mead, dawn@hkamarcom.com, 714-426-0444
###