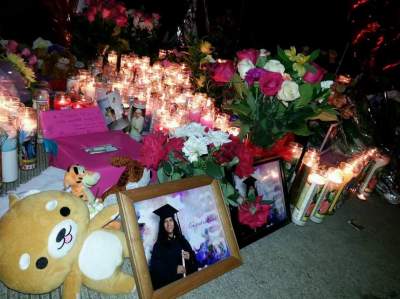 As of today at 11:30 am, there have been multiple arrests made in connection to the hit and run deaths of three 13 year old girls that occurred in the 1400 block of E. Fairhaven on Friday October 31, 2014 at 6:45 pm, according to the Santa Ana Police Department.
Santa Ana Mayor Miguel Pulido later said five people had been arrested, according to KTLA.
There will be a press conference tomorrow, Monday November 3, 2014 at 11:00 am at Santa Ana Police Department in the Community Room. There will be NO further information released until the press conference tomorrow.
The three teens were walking in a crosswalk when they were struck by a speeding Honda CRV in the 1400 block of Fairhaven Street (map) around 6:45 p.m. Friday, not far from Fairhaven Elementary School, according to KTLA.
The coroner's office identified the twins as Lexi Perez and Lexandra Perez and the third girl as Andrea Gonzalez. KTLA reported that the twin girls' last names were Perez Huerta.