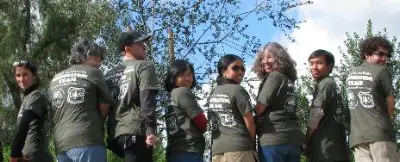 The United States Forest Service & Back to Natives Restoration Present a…Restoration Training Program
13 Days in 2012
Back to Natives Restoration, in a cooperative agreement with the Cleveland National Forest, is providing hands on habitat restoration training over the course of 6 weeks beginning on February 16. Each training session will focus on specific aspects of the restoration process. Learn native and non native plant identification, proper site entry/exit protocol as well as mechanical/physical abatement techniques to reduce soil disturbance and possible weed seed germination.
Feb. 16 Orientation / Dead Heading \ Site Assessment @ Tustin REI
Feb. 18 Site Assessment Field Lab
Feb. 23 Sub-Shrubs Eradication Methods @ Tustin REI
Feb. 25 Field Lab Sub-Shrubs
Mar. 1 Shrubs and Small Trees Eradication Methods @ Tustin REI
Mar. 3 Field Lab Shrubs and Small Trees
Mar. 8 Mustards, Chemical Controls and Biological Controls @ Tustin REI
Mar. 10 Field Lab Mustards
Mar. 15 Herbaceous Perennials, Eradication Methods @ Tustin REI
Mar. 17 Herbaceous Perennials, Field Lab
Mar. 22 Review @ Tustin REI
Mar. 24 Final Exam @ the Back to Natives Nursery at Santiago Park
Where: Classes will be held at the Tustin REI. Field labs will be held at the Santiago Park Nature Reserve in Santa Ana and the Cleveland National Forest.
Who's invited: Anyone interested in hiking Orange County trails to identify invasive plants, remove them when possible, and report them when assistance is needed. Staff and Volunteers from all wildland agencies, organizations and non-profits are also welcome to participate, and then share the knowledge and skills gained to restore their own lands. Age requirement: 16 years and older. Individuals younger than 18 years of age must be accompanied by a parent or guardian.
Tuition: $60.00 for volunteer and $300.00 for agency/organization staff, plus material fee of $25.00. Your promise to volunteer at least once a month at the venue of your choice!
What to Bring: Note taking materials, Gloves, sunscreen, water, snacks, hat, wear layers and closed toe shoes. Bring a snack.
Why: Ecological restoration is a means of sustaining the diversity of life on Earth and reestablishing healthy ecosystems. This program is for those interested in the restoration and conservation of Orange County wildlands. Successful habitat restoration ensures that native species are protected while non-native species are removed efficiently, and with minimal human impact to the site. This program will acquaint participants with non-chemical, low impact weed removal methods.
RSVP: Please RSVP to restoration@backtonatives.org.