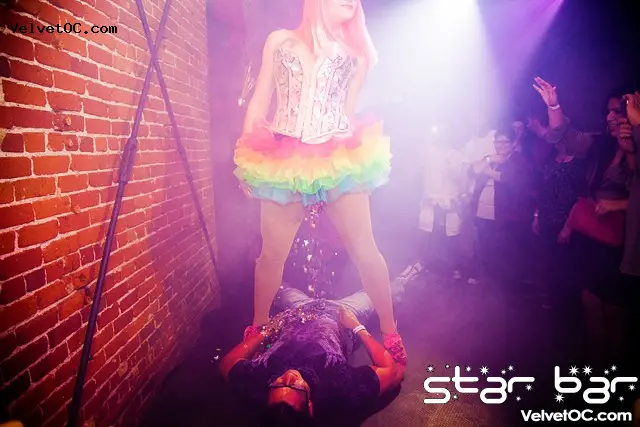 The OC Weekly named Santa Ana's gay bar, the Velvet Lounge, the #1 gay bar (in a tie) in Long Beach and Orange County, on Dec. 31.  But our friends at the Santa Ana Sentinel have a problem with the Velvet Loungers:
There is a recurring littering problem happening outside of the gay glub "VLVT" near the corner of Fourth & Ross streets. At the end of any given night clients of this club use the sidewalk near 410 W. Fourth street as a makeshift restroom.
That's right, apparently the Velvet Loungers are apparently peeing all over the place – in public!  No bueno!
I don't think that is what Don Cribb had in mind years ago when he first started pushing our Downtown in this direction.  He was aiming for gentrification – and he and his pals wanted to replace Mexicans with gays, the premise being that Mexicans were too rowdy and drunk and peed all over the place.
Well, look who's peeing now!
We also recently forwarded evidence to the Santa Ana Planning Agency and the SAPD that the Velvet Lounge was engaging in what appeared to be adult entertainment, in violation of their Conditional Use Permit.  That investigation is ongoing, I am told.
East End Promoter Archer Altstaetter recently bragged on his Facebook page that Downtown Santa Ana is now gay Downtown Santa Ana.  Well Archer, maybe you can go mop up all that pee!