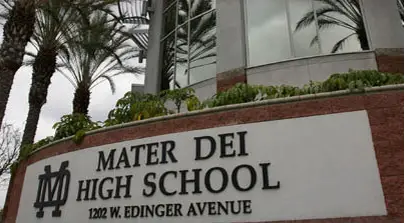 A reader asked us to compile a list of Santa Ana's private schools.  But let's start with Santa Ana's charter schools, which are publicly funded but are run independently.
The Santa Ana Unified School District's website does include a list of the local charter schools, which include:
Albor Charter School – This is a K-12 school that appears to offer instruction in a bilingual format.  They don't have a website and it is almost impossible to find out much about them online.  I did find news articles that indicated that a former director allegedly misappropriated millions of public dollars back in 2007.  Phone: 714-560-1568.
The Orange County Educational Arts Academy – K-8.  They offer English only and Two-way Language Immersion (Spanish/English).
The Edward B. Cole Academy – K-5.  They don't have a website.  I did find a letter they submitted to the City of Santa Ana where they indicated that they serve poor families with English fluency issues. 
El Sol Science and Arts Academy – K-8  Their website mentions that they "emphasize a mix of arts and sciences, two-way Spanish and English immersion, students are encouraged to gain hands-on experience and develop their interests through specialized courses, field trips and community service."
Nova Academy Early College High School – 9-12. Students begin attending courses at Santa Ana College as early as the 10th grade and have the opportunity to begin vocational courses. The 11th and 12th grades (and 13th if needed) will focus on individualized learning and career plans developed by NOVA staff.
Orange County High School of the Arts – 9-12.  Established in 1987, the Orange County High School of the Arts (OCHSA) provides a creative, challenging and nurturing environment that offers bright and talented students unparalleled preparation for higher education and a profession in the arts.
And here are the local private schools:
Bethel Baptist School – K-12.  Located at 901 South Euclid.
Calvary Christian School – Located at the Calvary Church over on the East Side, off of Tustin Ave.  This program is sponsored by an evangelical church.
Cornerstone Christian School – 1-12.  Another Baptist school.  Located at 1733 La Colina.
Grand Avenue Christian School – Pre-K through 6th Grade.  They ofer a "well-rounded enrichment program, including music/drama/foreign language/art/computer instruction."
Lycee International of Los Angeles – Pre-K – 12.  Truly bizarre.  They appear to teach in a Franco-English format and are trying to produce "renaissance students."  I guess if you want your kids to learn French, this is the way to go.  They do have a campus in town over off of Fairhaven and Tustin.
Maranatha Christian School – Pre-K-12.  Located at 3800 South Fairview.
Mater Dei High School –  A co-ed Catholic school.  The City of Santa Ana has bent over backwards for them over the years.  They are known in particular for their sports teams, particularly football.  Like many other Catholic institutions, they have had issues with molestations.
Newhope Assembly of God School – Pre-K – 6.  Located at 917 S. Newhope.
School of our Lady – K-8.  Another Catholic School.  Located at 2204 W. McFadden.
St. Anne School – Another Catholic school.  Pre-K – 8.  Located at 1324 S. Main St.
St. Barbara Catholic School – K-8.  Another Catholic school.  Located at 5306 W. McFadden Ave.
St. Joseph School – K-8.  Another Catholic School.  Located at 727 N. Minter.
There are quite a few others such schools that are primarily religious and Pre-K.  You can click here to see a comprehensive list.  My apologies if I ommitted any school of particular importance.