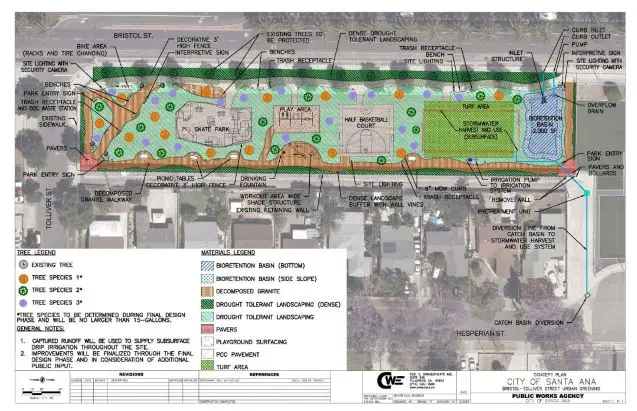 On April 3, 2023, the City of Santa Ana Public Works Agency was awarded $3,502,500 from the California Natural Resources Agency's Urban Greening Grant Program for the Bristol-Tolliver Street Urban Greening Project.
The Urban Greening Grant Program is a competitive statewide program aimed at reducing greenhouse gases while also transforming the built environment into places that are more sustainable, enjoyable, and effective in creating healthy and vibrant communities.
The Project features the transformation of approximately 1.25-acres of vacant parcels at the intersection of S. Bristol Street and Tolliver Street into a new urban green space and public park.
The Project includes pedestrian pathways, drought tolerant landscaping, lighting, waste receptacles, seating, interpretive signage, recreational features, and a stormwater treatment system that will capture stormwater runoff from the surrounding neighborhood and reuse it for park irrigation.
The project will provide significant aesthetic and environmental benefits to the community and further advances the City's strategy of viewing stormwater as a resource. Final design of the project is anticipated to be complete in spring 2024. Construction is anticipated to start in summer 2024 and be completed in summer 2025.
For additional information about the City's stormwater program, please visit: https://www.santa-ana.org/stormwater-management/.