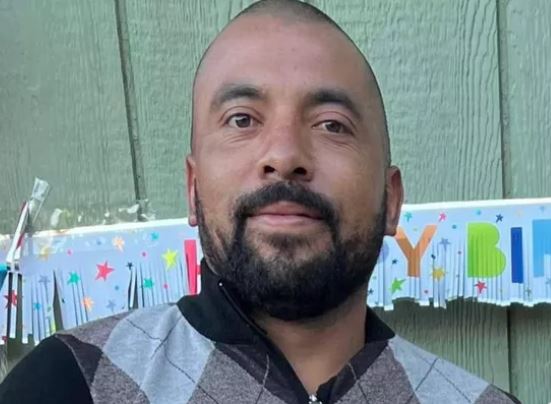 Lee Queuon Walker, a 42-year-old Santa Ana man, was convicted on Tuesday of a fatal Thanksgiving night road rage attack. Walker shot at a group of men in Costa Mesa and killed one of them as his girlfriend and son sat nearby in his pickup truck.
Walker was found guilty of first-degree murder for the killing of Lucas Rivera-Velasco (pictured above), 30-years-old, on Nov. 24, 2022 at the 300 block of West Bay Street, in Costa Mesa.
Walker was also found guilty of five counts of attempted murder related to the five other men who Walker shot at. Four of them were struck by bullets from Walker's gun and one of them had no injuries.
Walker snapped after the vehicle River-Velasco and the other men were driving in apparently clipped Walker's truck, causing no damage other than snapping out of place a side-view mirror that then popped back into place.
The lack of damage did not stop an enraged Walker from pursuing the other vehicle then jumping out of his truck and pounding on the window of the other men's truck when they had stopped at a red light.
Rivera-Velasco and the men in the other vehicle, which was a 2021 Chevrolet Silverado, were friends and cousins who were spending a rare day off drinking and watching Mexico's soccer team compete in the World Cup. They all worked hard as landscapers and gardeners during the week.
The men were leaving a restaurant at around 6:30 p.m. when they clipped Walker's pickup, but they apparently didn't notice as they talked and listened to music.
The men didn't pay any attention to Walker and even if they did they would not have understood him as they did not speak English. They drove off and Walker furiously pursued them even as his girlfriend objected.
Surveillance video captured what happened when Walker caught up to them, as they parked on Bay Street. Walker pulled up behind them then got out of his truck with his gun and opened fire as two of the men got out of their truck and started to move in his direction. Walker then shot even more bullets into the truck and then shot one more bullet directly in the face of one of the men who were outside of the truck.
Walker ran back to his own pickup. He then drove his girlfriend and son back to her parents' home in Santa Ana. He later turned himself in to police, perhaps realizing he might ultimately be facing murder charges.
Walker, his girlfriend and their 3-year-old son had been trying to find an open McDonald's restaurant because the boy wanted chicken nuggets. However they stopped at three restaurants and they all were closed closed due to the holiday. As such he was not in a great frame of mind when the other vehicle hit his truck's mirror.
Walker told the jury that he thought he saw two guns in the other truck, and he argued that he was standing his ground by following the men, acting with what he described as a "warrior instinct."
When Walker was asked what a "warrier instinct" was he said "You are going to either fight or you are going to flight, and I wasn't going to run."
Walker shot the men because he believed they had disrespected him, according to Senior O.C. Deputy District Attorney Dan Feldman, who also alleged that Walker waited until the two vehicles were on a less populated side street before attacking the other men.
Feldman said in his closing arguments that the incident boiled down to "First they startled him, then they insulted him, so they had to pay." "That is what this is about … He had already decided that this is how it is going down. They are going to pay."
While one of the victims paid with his life it is Walker who is now looking at serving many years in prison. His life ruined by his hot temper and anti-social tendencies.
Feldman destroyed Walker's argument about standing his ground by saying that Walker didn't have the right to provoke a confrontation and then claim self-defense. "That is how a predator tracks prey," said Feldman.
Senior Deputy Public Defender Randall Bethune, tried to blame the victims of Walker's rage by arguing that if the other men hadn't been driving drunk and if they had stopped to talk to Walker and had exchanged insurance and vehicle information then the confrontation would have been avoided.
"Mr. Walker was doing the right thing from his perspective, he had no intent to kill anyone," said Bethune.
Bethune also impugned the men who got out of the pickup truck saying that they had intended to attack Walker. "He fired when he was under attack," Bethune said. "He felt it was imminent and that the use of force was necessary. He truly believed it."
The jury did not buy this argument. What sane men would attack a crazy guy standing their waving a gun at them?
Walker will be back in court for sentencing on June 16. He will eventually end up in prison for years and will surely wonder if his ill-fated quest for chicken nuggets was worth ruining his life.