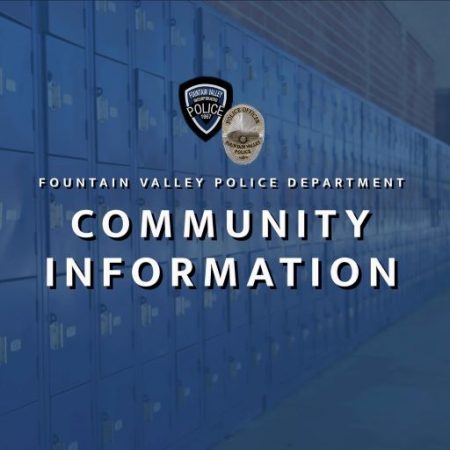 A few police departments have once again posted that their local schools are receiving vague threats about school violence, on social media, which have been deemed to be non-credible. Earlier in the month a teenager in Florida was arrested for making school shooting threats to schools in his state and in Southern California.
Here is what the Tustin Police Department posted this morning on Facebook:
The Tustin Police Department is aware of another social media post of vague and non-credible threats of school violence occurring somewhere today. The threat is circulating on SnapChat throughout several different states. We always take threats seriously work in direct partnership with Tustin Unified School District to keep our students safe.
Here is what the Fountain Valley Police Department posted this morning on Facebook:
FVPD is aware of yet another social media post regarding a non-specific safety threat to schools. This post did not name any particular school, nor did it mention any particular county or location. We are in communication with our local schools, school districts, and other law enforcement agencies.
In an abundance of caution, you may notice an increased police presence on all school campuses throughout the day. FVPD will continue to monitor the situation and provide updates as necessary. The investigation is ongoing at this time, and we thank you for your patience and understanding.

Remember, if you SEE SOMETHING, SAY SOMETHING.

Please contact your local schools for further guidance. To report additional information, contact FVPD Dispatch at 714-593-4485 for non-emergencies or 911 for emergency assistance.
Here is what the Westminster Police Department posted on Facebook this morning:
Westminster School District officials have been in constant communication, since this morning, with the City of Westminster Police Department, in monitoring a potential threat posted on social media regarding a possible violence today – May 10, 2023 at 2:30 p.m. The post only refers to an Albertsons Grocery store but does not mention other information, such as a specific city or involved school. At this time, there is no evidence of a specific threat to any of our schools.

Huntington Beach Police Department provided information to surrounding districts and we were made aware of it as well. We are staying in constant communication with local law enforcement to ensure everyone is safe.

The safety of our students and staff continues to be our highest priority. We will provide additional information when we learn more from our law enforcement.

We continue to encourage families, students, and staff that if you see something, say something and report anything suspicious to the Westminster Police Department via 9-1-1 or the Non-emergency Police Dispatch (714)-548-3212 (24 hours).
The SAUSD has so far not posted about any threats to SAUSD schools.