The SAPD tried to stop the driver of a possibly stolen Audi sedan with paper dealer plates this morning at about 10 a.m. The driver took off and led the police on a wild pursuit that finally ended in Bellflower at about 11:25 a.m.
The suspect led the pursuing SAPD police officers onto the northbound 405 Freeway and then onto the northbound 605 Freeway, according to the O.C. Register.

The driver then led police and eventually California Highway Patrol officers through several highways and surface streets. He weaved in and out of traffic on the 605 Freeway. Early in the pursuit, he was seen throwing items from a window, according to KTLA.
Apparently a passenger may have gotten out of the car during the pursuit but the media reports were unclear as to whether or not that person was arrested.
At one point after exiting a parking lot, the silver sedan was sandwiched between two CHP SUVs. Its passenger- and driver-side doors were damaged and the rear bumper was left dangling, but the driver continued to elude authorities., according to NBC.
The suspect was finally stopped when a patrol car used a PIT maneuver, pushing the rear end of the stolen car sideways, which forced it into spinning out and ultimately stopping.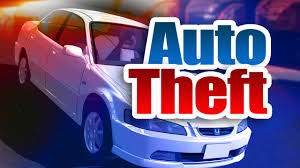 When it finally came to a stop on the Clark on-ramp, the driver appeared to be ingesting or inhaling something, but that wasn't immediately confirmed, according to CBS.
After about ten minutes the suspect finally surrendered to the police without further incident, according to ABC.
The police did not reveal the name of the suspect. He will no doubt be facing many felony charges.