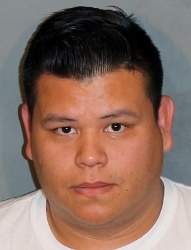 Luis Flores-Mendoza of Santa Ana pleaded guilty last year to impersonating a U.S. Immigration and Customs Enforcement agent and threatening to deport a woman if she didn't give him money. He was sentenced on Monday to eight months in prison, according to the Sacramento Bee.
Flores-Mendoza was initially arrested and charged in state court in July of 2016 after an investigation by the Placentia Police Department.
Flores-Mendoza's female victim told Placentia police detectives that Flores-Mendoza arrived at her workplace in June of 2016, clad in police tactical gear, including a vest, badge, and a firearm, which later proved to be a pellet gun. After allegedly identifying himself as an ICE agent, the victim said Flores-Mendoza presented her with a letter, purportedly from ICE, stating there was an immigration case against her. The defendant then allegedly instructed the victim to pay him $5,000 to prevent her and her child from being deported. At the time of his original arrest on the state charge earlier in July of 2016, Flores-Mendoza was driving a vehicle equipped with police-style strobe lights and a siren, according to the U.S. Dept. of Justice.
Flores-Mendoza's attorney, Jason Hannan, told Judge Selna that his client's actions were driven by mental illness. He asked the judge to sentence Flores-Mendoza to home confinement rather than time behind bars, according to the O.C. Register.
However Federal prosecutors submitted a brief to the court prior to Flores-Mendoza's sentencing indicating that earlier in 2016 he had previously claimed to be an immigration officer while trying to get another person to pay him. So clearly he wasn't mentally ill – he was just another criminal. And he preyed on his own people.
Not only will Flores-Mendoza do time in jail he will also spend two years on supervised release.