This week Chairman Andrew Do called for a Study Session on Homelessness for the Orange County Board of Supervisors.
The meeting focused on building the County's System of Care including mental health system integration, existing permanent supportive housing and units that in the pipeline, and federal funding sources allocated to the County and cities in Orange County.
The next steps in building the County's System of Care for the homeless:
Extending the Armories for 90 days to provide cities the opportunity to identify and negotiate system contributions regionally,
Conduct Service Planning Area meetings with cities in May 2018,
Appoint the Commission to End Homelessness in May 2018,
Implement Service Planning Areas infrastructure:

Coordinated Entry System .
Homeless Management Information System.
Coordinated Homeless Assessment and Response Team (CHART) mobilization,
Creation of Regional Navigation Centers which links those to mental health services, physical health services, public benefits, employment, and housing.
To see the full presentation and data, you can click here.
Civic Center Plaza Cleared of All Encampments
The Santa Ana Civic Center has been cleared of all encampments. Chairman Andrew Do visited the Plaza of the Flags last week to survey the now uninhabited area.
The Orange County Health Care Agency in partnership with the City of Santa Ana Police Department completed 234 assessments of homeless individuals residing in the Civic Center Plaza. The individuals have been placed in a variety of programs including the Courtyard Transitional Shelter, Bridges at Kramer Place, SAFEPlace and more. 135 individuals declined services.
Since July 1, 2017, the County and it's contractor, City Net, have engaged 1,182 individuals from the Santa Ana Riverbed and Civic Center. Of the 1,182, an estimated 58% accepted shelter and/or services, while 42% declined all services.
As of July 1, 2017, the County has engaged 45.7% of the total number of unsheltered individuals (2,584) in the 2017 homeless count in Orange County.
A full press release on the Civic Center is available online here.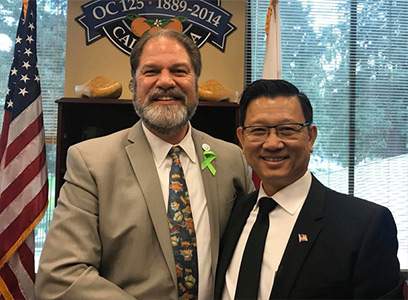 Chairman Do Advocates for Homeless Funding
Last week, Chairman Andrew Do traveled to Sacramento to advocate for a number of items, most importantly funding for the homeless.
The Chairman spoke with members of both the Assembly and Senate including Assemblymember David Chiu, Assemblyman Phillip Chen, Senator Pat Bates, Assemblyman Brian Dahle, Assemblymember Jim Cooper, Assemblywoman Sharon Quirk-Silva, Senator Scott Wilk, and Senator John Moorlach.
It is vital that Orange County receive adequate funds from the State of California in order to keep up our momentum on increasing housing availability and providing much needed services for our homeless residents.