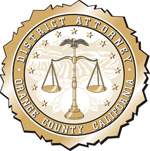 Orange County District Attorney Press Release
For Immediate Release: May 22, 2014
CONSUMER PROTECTION LAWSUIT FILED AGAINST PHARMACEUTICAL COMPANIES FOR DECEIVING PATIENTS AND DOCTORS ABOUT DANGERS OF PAINKILLERS, INCLUDING OXYCONTIN AND PERCOCET
*Complaint charges that misleading marketing has grown opioids into multi-billion dollar industry at expense of patient health
SANTA ANA – The Orange County District Attorney (OCDA) and Office of the County Counsel for the County of Santa Clara (OCCCSC) have filed a civil consumer protection lawsuit against five large pharmaceutical companies for endangering patients and deceiving doctors by intentionally misrepresenting the dangerously addictive nature of opioids, or a class of narcotic prescription painkillers, to expand their market and profit for the drugs.
The Complaint was filed yesterday, May 21, 2014, against Purdue Pharma L.P., Cephalon, Inc., Janssen Pharmaceuticals, Inc., Endo Health Solutions Inc., and Actavis, Inc.
"As District Attorney, I have the task of protecting the People of Orange County against false advertising and unfair business practices in consumer protection cases," said District Attorney Tony Rackauckas. "We have charged these pharmaceutical companies for knowingly harming public health by waging a massive campaign to sell huge quantities of these dangerous drugs for profit. It is imperative for prescription drugs to be taken to promote health, not endanger lives, and that those responsible for producing these drugs not engage in deception."
What are Opioids?
Prescription opioids, a class of painkillers, include brand-name drugs such as OxyContin and Percocet. Opioids are narcotics derived from opium and have similar effects on users as heroin. They are approved for the treatment of chronic cancer pain, especially for terminal patients. Opioids are not approved for general pain management and are dangerously addictive with prolonged use requiring greater quantities for the same therapeutic effect. They are both physically and psychologically addictive.
Opioids are controlled substances classified under the federal Controlled Substance Act as having "high potential for abuse" and a "risk of severe psychological and physical dependence." Numerous studies support that at least 15 percent and as many as 40 percent of patients will become addicted to opioids.
Defendants' Deceptive Practices
The defendants are accused of knowingly misleading doctors and patients about the proper use and risks of opioids. They are accused of engaging in a decade-long intensive marketing campaign to misrepresent the benefits of using opioids for common non-cancer chronic pain such as back pain, arthritis, and headaches, despite warnings from the U.S. Food and Drug Administration that such claims were unsupported.
The Complaint states that, "Before the defendant's deceptive marketing campaign, opioids were rarely prescribed by physicians because of their known serious side effects and substantial risk of addiction."
The defendants are accused of knowingly deceiving doctors and patients by falsely marketing opioids as rarely addictive, representing that opioids are safer than and/or superior to over-the-counter painkillers, and obscuring and minimized the potential side effects including serious risk of abuse, addiction, overdose, and death.
In 2010, opioids generated $11 billion in revenue for pharmaceutical companies.
Harm to Orange County
The defendants are accused of intentionally endangering patients and deceiving doctors to grow the multi-billion dollar opioid market, despite the resulting abuse, addictions, and deaths.
Through their deceptive marketing practices, the defendants are accused of creating a population of people addicted to opioids. This has created a demand for illicit opioids from persons no longer able to obtain prescriptions. It has also created an increase in the use of heroin, which is cheaper than obtaining opioids and has a similar effect on users.
According to the Orange County Sheriff-Coroner 2012 Annual Report, "Heroin overdose data has been problematic," with almost 150 people dying as a result between 2010 and 2012. The report also noted that prescription drug overdose deaths in Orange County rose from 88 in 1999 to 188 in 2012.
The Orange County Health Care Agency observed 291 opioid overdoses in Orange County in 2012, amounting to almost 40 percent of accidental deaths in the County that year.
Prayer for Relief
The OCDA and OCCCSC filed a Complaint for Violations of the False Advertising Law (California Business and Professions Code § 17500), and the Unfair Competition Law (California Business and Professions Code § 17200), and Public Nuisance in the Superior Court of the State of California in Orange County.
Civil actions under the Unfair Competition Law and the False Advertising Law may be brought in the name of the People of the State of California by the District Attorney. These laws "are the basic tools of the Attorney General and the district attorneys in combating consumer fraud."… "[D]istrict attorneys have an independent role in the enforcement of this state's false advertising laws." Lavie v. Procter & Gamble Co. (2003) 105 Cal. App. 4th 496, 503.
The case Prayer for Relief seeks for the defendants to be required to cease deceptive marketing practices, to make restitution to consumers, and civil penalties.
Hotline
Anyone with grievances or wishing to provide additional information is encouraged to leave a message on the OCDA's Opioid Consumer Protection Hotline at (714) 347-0501.
###
Tony Rackauckas, District Attorney
401 Civic Center Drive West
Santa Ana, CA 92701
Contacts:
Susan Kang Schroeder
Chief of Staff
Office: 714-347-8408
Cell: 714-292-2718
Farrah Emami
Spokesperson
Office: 714-347-8405
Cell: 714-323-4486