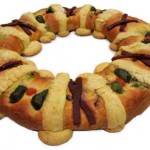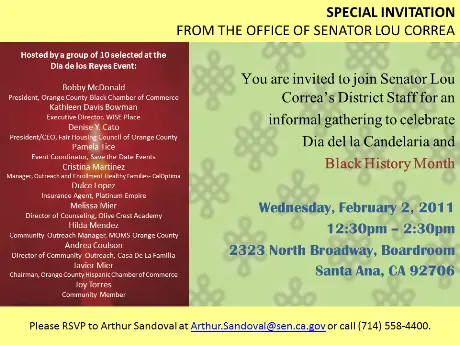 State Senator Lou Correa and the Orange County Black Chamber of Commerce are hosting an informal gathering to celebrate Dia de la Candelaria and Black History Month, on Wed., Feb. 2, from 12:30 pm to 2:30 pm, at his office, located at 2323 N. Broadway, in Santa Ana.
Candelaria is a traditional event in Mexico, and in other Latin American countries, as well as in Europe.  It is a celebration of the Three Wise Men's visit to baby Jesus.
Correa previously held a Dia de los Reyes event, that was co-sponsored by the Orange County Hispanic Chamber of Commerce, on Jan. 6.  At that event he provided Rosca de Reyes cake and traditional Mexican hot chocolate.  According to tradition, whoever finds the plastic figurine of baby Jesus in the Rosca de Reyes cake is obligated to throw a party on Dia de la Candelaria (Candlemas Day), which occurs annually on Feb. 2.
It looks like ten of the attendees of the Jan. 6 event found the baby Jesus figurine!  They include:
Bobby McDonald, the President of the O.C. Black Chamber of Commerce
Kathleen Davis Bowman, the Executive Director of the WISE Place
Denise Y. Cato, President/CEO of the Fair Housing Council of Orange County
Pamela Tice, Event Coordinator, Save the Date Events
Cristina Martinez, Manager, Outreach and Enrollment Healthy Families – CalOptima
Dulce Lopez, Insurance Agent, Platinum Empire
Melissa Mier, Director of Counseling, Olive Crest Academy
Hilda Mendez, Community Outreach Manager, MOMS Orange County
Andrea Coulson, Director of Community Outreach, Casa de la Familia
Javier Mier, Chairman, O.C. Hispanic Chamber of Commerce
Joy Torres, Community Member
You may RSVP by calling 714-558-4400, or sending an email to arthur.sandoval@sen.ca.gov.