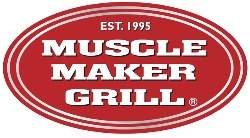 SANTA ANA'S MUSCLE MAKER GRILL WRAPS UP SUMMER AND INVITES GUESTS TO ENJOY A FREE WRAP ON AUGUST 27
Houston, TX (August 17, 2016) – Muscle Maker Grill®, the rapidly expanding fast-casual restaurant brand, promoting a healthy lifestyle by offering nutritious alternatives to traditional dishes, today announced that to celebrate the official start of the back-to-school season, and to wrap up summer 2016, it will give away one FREE wrap per guest from 12:00 PM – 4:00 PM on Saturday, August 27. The health-conscious brand is famous for serving lean, protein-based dishes including fresh greens, healthy wraps, fit bowls, skinny flatbreads, fruit smoothies, protein shakes and more.
Located in the City Place Shopping Center in Santa Ana, guests of Muscle Maker Grill will have a choice to sample one of four different wraps from its nutritionally-charged lineup, including: the Rocky Wrap – grilled chicken breast, turkey meatballs, reduced-fat mozzarella and marinara in an herb wrap; Santa Fe Wrap – grilled chicken breast, turkey bacon, red beans and brown rice, reduced-fat cheddar cheese and zero carb signature sauce in a jalapeño wrap; Yee-ha! Wrap – grilled chicken breast, turkey bacon, western potatoes and zero carb signature sauce; and MMG Signature Wrap – grilled chicken breast, turkey bacon, reduced-fat cheddar cheese, romaine, tomatoes and onions with zero carb signature sauce in a jalapeño wrap.
"We are excited to host a free wrap day for the Santa Ana community – which gives our guests a chance to come out and enjoy one of our delicious wraps with their friends and family," said Robert E. Morgan, President and Chief Executive Officer of Muscle Maker Grill. "We look forward to celebrating the end of a great summer and start of the new school year with all guests – both new and familiar – on August 27."
Founded in 1995, Muscle Maker Grill provides its guests healthier versions of mainstream-favorite dishes that taste great, making it easy, affordable and enjoyable to eat healthy. Muscle Maker Grill's diverse menu was created for everyone – fitness enthusiasts, those starting their journey to a healthier lifestyle, and people trying to eat better while on-the-go. Providing "Great Food with Your Health in Mind," Muscle Maker Grill's menu features items with grass-fed steak and all-natural chicken, as well as options that satisfy all dietary preferences – from the carb-free consumer to guests following a gluten-free diet and vegetarians. Muscle Maker Grill does not sacrifice taste to serve healthy options. Now, guests can have delicious, nutritionally balanced food without the regret. More than just food, Muscle Maker Grill restaurants are a friendly, relaxed and social environment where guests can enjoy great-tasting food and engage with fellow health enthusiasts in their area.
To make healthy eating even easier, Muscle Maker Grill's signature nutritionally-focused menu items are available through its Meal Plan program, allowing pre-orders of meals that taste great via phone, online or in-store, available for pick up or delivered right to their door starting at just $8.00 per meal. 22 Muscle Maker Grill menu items are available, including the Hollywood Salad, Turkey Meatball Wrap, Tucson Bowl and many more.
Muscle Maker Grill of Santa Ana, located in City Place Shopping Center at 2775 North Main Street, is open Monday – Sunday from 10:30 AM – 10:00 PM. Convenient carry-out, delivery, phone-in and online orders are available. Guests may reach the restaurant directly by calling (714) 543-2584 or by visiting its website, http://musclemakergrill.com/order/mmgsantaana.
For more information on Muscle Maker Grill and its menu, visit www.musclemakergrill.com. Muscle Maker Grill also can be found on Facebook, where fans can participate in online promotions, engage with other health-conscious individuals and receive updates on new menu items, store openings and tips on how to live a healthy lifestyle, and its Muscle Maker Grill TV YouTube Channel.
About Muscle Maker Grill
Muscle Maker Grill features high-quality, great-tasting food, freshly prepared with guest's health in mind. Its lean, protein-based menu features chicken, seafood, pasta, wraps, and entrée salads. Muscle Maker Grill also offers a wide selection of fruit smoothies in a variety of assorted flavors, protein shakes and supplements. With offices in New Jersey and Houston, TX, Muscle Maker Grill has nearly 50 franchised and corporate restaurants in 14 states. For more information on Muscle Maker Grill, including how to become a franchise partner, visit www.musclemakergrill.com.