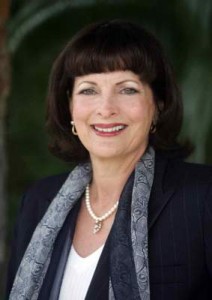 FAIRHAVEN'S MARLA NOEL ELECTED TO BOARD OF DIRECTORS OF INTERNATIONAL CEMETERY, CREMATION AND FUNERAL ASSOCIATION
SANTA ANA, Calif. – May 6, 2013 – Marla J. Noel, CPA, president of Fairhaven Memorial Park and Mortuary in Santa Ana, California, was elected to the Board of Directors of the International Cemetery, Cremation and Funeral Association during its Annual Convention & Exposition, April 10-13 in Tampa, Florida.
Fairhaven Memorial Park is an organization with more than 90 staff members. The Fairhaven Family includes Fairhaven Memorial Park and Mortuary, and Fairhaven Memorial Services and Family Mortuary. Fairhaven serves more than 1,500 families annually. Noel has been with the Fairhaven Family for more than 18 years.
A CPA, Noel holds cemetery manager broker and life insurance licenses. Her MBA is from Chapman University with honors. Her undergraduate degree is from Indiana University. She has served on the board of several organizations, including Rotary, OCARC, Laguna College of Art and Design, WomanSage, the Boys and Girls Club of Santa Ana and the Alzheimer's Association.
Noel has attended ICCFA University and sends Fairhaven staff every year for training and education. Noel has spoken at an ICCFA Convention. She is a member of the Cemetery and Mortuary Association of California and the California Funeral Directors Association. Noel established the first Mortuary Explorer's Club in Southern California, and is also a member of Vistage and WPO.
About the International Cemetery, Cremation and Funeral Association
Founded in 1887, the International Cemetery, Cremation and Funeral Association is the only international trade association representing all segments of the cemetery, cremation, funeral and memorialization industry. Its membership is composed of more than 7,500 cemeteries, funeral homes, crematories, memorial designers and related businesses worldwide.
About Fairhaven
Founded in 1911 by Oliver Halsell to provide a peaceful and comforting place for families to honor their loved ones, Fairhaven Memorial Park & Mortuary is Orange County's most beautiful independently-owned and operated full-service mortuary, crematory and cemetery. With the memorial park and mortuary in Central Orange County and an elegantly appointed mortuary in South Orange County, Fairhaven offers a wide range of pre-need and at-need services provided with care and compassion. Fairhaven is dedicated to celebrating the individual, providing services that are as unique and wide-ranging as the people they celebrate. Additional information is available at www.fairhavenmemorial.com.
# # #